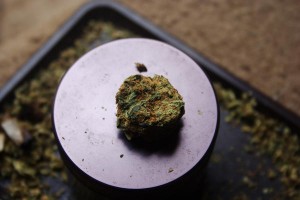 The Mr. Nice strain of marijuana is a cross between the Hash Plant and the G13 strain, both of which are famous medical strains of marijuana, and hasn't been available since the '80's, but the Sensi Seed Bank has put Mr. Nice back on the market. The hybrid strain was named after one of the biggest marijuana smugglers of our time, Howard Marks, who was an Oxford graduate and released an autobiography titled "Mr. Nice" after having spent some time in federal prison.
Attributes
The Mr. Nice strain is an indica dominant plant that has extremely dense buds while having a sweet smell. It's said to creep up on you, giving users a strong, mellow high. Mr. Nice is earthy, pungent, and sweet. It often makes its users feel; relaxed, euphoric, uplifted, happy, and hungry. For those using this as medical marijuana, patients have been relieved of; Stress, insomnia, depression, pain, headaches, as well as helping with their lack of appetite. This particular strain of marijuana is used to help with patients that have ADD/ADHD, anxiety, PTSD, PMS, and Tinnitus.
Mr. Nice is a grade A Sativa type strain of marijuana that gives a very fruity aroma as well as a fruity and sweet taste. It smells more like that of a fruit orchard as opposed to just smelling of any specific fruit. It's said to be good for daytime use and produces a nice mild, medium high which can help alleviate undesirable symptoms from medical problems that patients can experience. It's ark green with a very short height, with big purple leafs that has white and orange hairs along the buds; which has a nice crystal consistency. The plant itself is also very resistant to diseases and pests and only takes about 39 to 49 days to full growth.
Roots
This particular strain of marijuana is considered to be the closet to G-13 that's currently available. The only G-13 that has been released to the public has been a few female cuttings that got leaked from a US government researching lab back in the 1970's. Because of that, G-13 seeds could not be created without having a G-13 mother being pollinated with a male strain; The Sensi Seeds breeding program eventually deemed the male Hash Plant suitable for crossing and so, the Mr. Nice strain of marijuana was developed and released as a limited edition until releasing it again in 1999 due to demand.