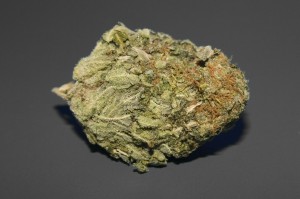 The God Bud strain is generally a small plant, ideal for small spaces. It prefers cooler climates and grows no more than three feet tall, making it great for stealth grows. The taste is mainly a sweet flavor along with pungent and earthy undertones. One described it as having a "great smell and wonderful smoke" (leafly.com review). According to leafly.com, the God Bud strain ranks the highest compared to other strains in many areas. For one, it was ranked very high for euphoria, happiness, relaxation, and sleep.
In fact, a majority of the strains listed on leafly.com don't even come close to the euphoria levels this strain has. Pain and stress relief were ranked the highest for medical benefits. Dry eyes and dry mouth were the only two common, unpleasant effects from this strain. However, this strain is perfect for the recreational user, as it has intense effects in this area.
Overall, the effects are ". . . clear minded and super relaxed" (leafly.com). However, this clear, relaxing high hits with an intense wave of euphoria, unlike any other strain. One person on a review of the strain said that they "instantly felt euphoria" on the first hit (leafly.com). This person said that the strain worked wonders in fighting his/her severe depression.
The God Bud strain doesn't have an intense, indica-like body high, which is convenient if things need to get done. However, it does provide a real nice relaxing effect to the user, making it ideal to relieve stress from a long work day. This is the perfect strain for a "rainy day" since it will turn any day into a good one. Also, the strain was ranked fairly high under the sleepiness category, so it would most likely be great before bedtime or insomnia. Another review said it has a nice come-down, meaning no burnt-out, lethargic feelings. Anyone doing a stealth grow or growing in a small place can easily rely on this strain. Those who live in colder climates won't have a problem with growing this strain. It yields a generous amount of high quality medicine if grown right.