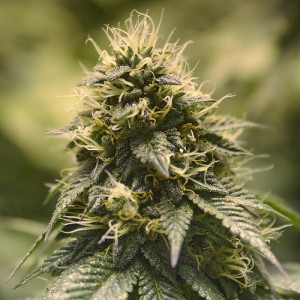 When you hear the name AK-47 being bandied around, you may think of a loaded weapon. However, medical marijuana patients know better. AK-47 is a relaxing, effective sativa-dominant hybrid marijuana strain combining many attractive features from top indica and sativa varieties. Patients love the peaceful, easy feeling of the strain.
AK-47 contains a significant amount of THC, so first-time users should exercise caution lest they end up stuck to the sofa. The strain has a skunky, diesel, piney flavor. Users said it made them very happy. Listening to music was enhanced while users experienced uplifting, out-of-mind effects.
Some other top effects cited by users include:
• Creativity
• Euphoria
• Happiness
• Uplifting feeling
• Sleepiness
The sativa dominant hybrid has dark yellow-tinted buds set in a green field. It features a lot of crystals and a small amount of amber ed hairs. The strong skunky aroma fills the room with a berry fruit, diesel exhaust. Strong potency doesn't mean cutting down taste, either. Those enjoying AK-47 also enjoyed hybrid strains like white widow, OG kush, silver haze, pineapple express and Maui waui.
The strain works great day or night although daytime use is recommended only for experienced users due to the strain's potency. Users generally gave it 9 out of 10 star ratings and "A" grades due to it beong a good head high that maintained consistency over several hours.
Some of the top medicinal reasons for use include:
• Depression
• Insomnia
• Nausea
• Pain
• Stress
Optimal growing conditions for AK-47 call for indoor cultivation. It grows fairly easily. Did you know it was developed first in 1992 and finished third at the 1995 Cannabis Cup? It grows high with large calyxes and a wide spread.
The proof is in the using, though. Patients with arthritis enjoy pain relief while many other users consider it a motivational strain. It's appetite enhancement helps those with nausea cope better. It's clear-headed properties let people work while enjoying its medicinal benefits. It goes down smoothly whether smoked, vaporized or eaten.
Like any THC product, the strain can exhibit some negative effects. Negative factors that may result from use include:
• Anxiousness
• Dizzyness
• Dry mouth
• Dry eyes
• Paranoia
AK-47 glistens with trichomes and packs a great mind and body punch, strong, but not too strong, making for clear minds and better feeling bodies. It's considered good medicine that tastes great and works well day or night for patients and other users.