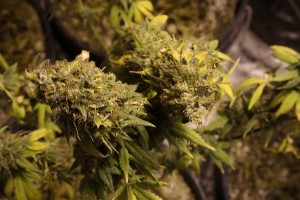 Animal Cookies is a hybrid, Indica leaning marijuana that is remarkably potent. Animal Cookies come in all sorts of size and shape; the cookies are renowned for their strong flavor and deep aroma. The cookies general appear dense with buds covered in a layer of thick milky trichomes with golden and yellow hairs. This marijuana strain was previously only available as a clone but after intensive research, it is now available for purchase in seed forms thanks to companies like BCbuddepot.com. Beyond its numerous medical uses, Animal Cookies is also used in a couple of other applications including acupuncture and massage therapy.
Some facts about Animal Cookies
• Strain name: Animal Cookies
• Genotype: Hybrid of 50 percent Indica and 50 percent Sativa
• Flowering type: Photoperiod
• Flavor: Cherry Cookies taste
• Medial uses: depression, anxiety and appetite
The Plant
Animal Cookies Marijuana takes between 9 and 10 weeks to flower when it is cultivated indoors. The plant is typically stronger in structure and grows moderately faster than other commonly used strains of marijuana. The leaves of this plant typically grow into dark green teardrop shape. Animal Cookie is especially sensitive to pH just like the other strains of Girl Scout Cookies.
Taste and Smell
Once Animal Cookies is out of the bag, it smells like brute lemon fuel, but once it is fragmented into smaller pieces, it brings out a sweet smell similar to that of animal crackers. The buds of this plant have an earthly smell and taste that is compounded with a bit of sweet tartness and sour aromatic taste that hides under its heavy full body effects. The flower takes sometime before igniting even when dried, because it contains a huge volume of resin. However, once it is lighted and exhaled, it brings forth a numbing taste of rubber and hot asphalt that feels like some kind of citrus or berry fruit.
Uses and Side Effects 
This potent medicine is perfect for curing mild symptoms, back pain, insomnia, ADHD, ADD and muscles pain. Animal Cookies is also known to make its users happy and generally euphoric. This medical marijuana is not recommended for use by inexperienced patients or anyone looking for part-time quick fix relieve. Whenever this medical marijuana is used, proper planning is essential because of the medicines potency factor. Although there aren't many side-effects associated with Animal Cookies, some of the notable effects include dry mouth and dry eyes.