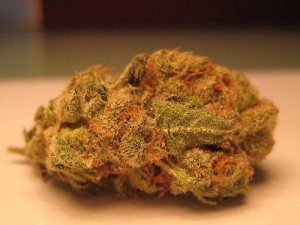 A relaxing high and the taste and light scent of bananas. How can you go wrong? This is one of those hybrid strains that tastes exactly how it smells. This strain is potent and does what it sets out to do. Add to that a THC content between 18% and 20% (with some reported levels as high as 26%) and you know what you're inhaling. Some circles say it's the best tasting California cannabis available but its word-of-mouth popularity is making waves far beyond its home of origin.
Great Taste, Great High
Banana Kush is a strong Sativa dominant hybrid that washes over you and gives a very strong body high with a moderate head high. More and more consumers are enjoying the BK for it's medicinal benefits. A bad back. Migrane headaches. Arthritis. The list goes on and on and the relief that Banana Kush is bringing pain sufferers keeps getting longer as well.
An attractive appearance: bright green with yellow-orange hairs gives Banana Kush its sweet bouqet while leaving a sensation of a very strong Indica dominant hybrid. In short – it is not so strong that you cannot function throughout the day and the important element to be repeated is great pain relief. The banana undertones are enjoyable to some and annoying to others. But what counts is that BK provides a good high that is very mellow, makes you slow down and relax and helps relieve all aches and pains.
Just One Bowl
After the first bowl is history, a very mellow buzz sets in most of the upper body that you'll find is very comforting. The initial buzz is heavily concentrated in the chest and behind the eyes and then washes over the entire body. Eventually ending with a full bodied mellowing effect. Best advice is to let the effects of the first bowl kick in before enjoying a second or third. Stay close to the couch or bed. Banana Kush is a great late evening favorite that makes hard-to-get sleep a real joy.
Banana Kush makes the pains go away and rest-and-relaxation is most welcome.
Photo credit: Nickel Bag of Funk / Foter.com / CC BY