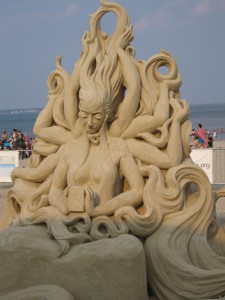 Euphoria is the name given to a hybrid medical marijuana strain bred from the combination of several skunk strains. This hybrid strain was introduced in the early part of the new millennium by the Amsterdam Dutch Passion seed company. Euphoria has a sweetish floral taste and smell. It's easy to grow even for novices and takes about 9 weeks to flower. It also gives a good yield. The medicine itself is a light green shade, has small orange hairs, and copious amounts of crystals. It can be used to treat a range of ailments.
Euphoria came on the scene with a bang. It won numerous awards its first few years on the market. One of it's most high-profile showing was the second place finish in the High Times Cannabis Cup in the Sativa category and in the 2002 Best Seeds High Life Cup. It's easy to see why Euphoria has turned out to be a star. It looks appealing, smells great, tastes phenomenal, and has a high THC content. Euphoria does not trade on the Skunk Sativa name. It stands on its own as a highly potent, effective medication with a heavenly aroma.
Many people report that using a vaporizer is the ideal way to get the most out of the medication. Others disagree saying the medicine is excellent in edibles and a variety of other delivery methods. What everyone agrees on is Euphoria is amazing. It leaves people feeling upbeat and energetic. Many patients say it helps them overcome stress and anxiety and enabled them to be more active socially and physically. They were flooded with uplifting, happy thoughts, and an overall feeling of euphoria. This medication certainly lives up to its name.
Euphoria is a type of alternative medicine that has shown to be very effective in treating a number of serious ailments. Patients suffering from debilitating or chronic pain, severe anxiety, general anxiety disorders, generalized pain, depression, stress, nausea and a number of other conditions have found near instant relief when they used Euphoria. Several reported it made their minds clear and gave them the energy and focus to get any task done. This strain is particularly helpful to people suffering from stress or anxiety.
Few medications live up to their names. This unique hybrid skunk strain does. It lightens the mood, relaxes, and creates good energy. The strain stimulates creativity and enhances communication. It creates euphoria.