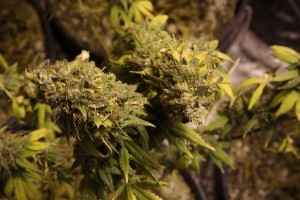 The Cherry Pie strain is one of the more sought-after marijuana plants due to its fragrant fruity smell, potency, and minty-like flavor. The genetics of this plant can be traced to a mixture of Durban Poison and Grandaddy Purple — both renowned for their full-bodied effect and distinct berry flavor. Although this wildly popular, Bay-Area strain is rare, some believe it's mostly just an upgraded version of Cherry Kush; others say not so. Regardless, the benefits derived from the Cherry Pie strain according to the medical marijuana community cannot be denied.
Medical Effects Of Cherry Pie Strain
The Cherry Pie strain is attractive, fragrant, and has a well-deserved reputation medically for its ability to relieve insomnia, stress, and a poor appetite. Smokers also hold the Cherry Pie strain in high regard due to its ability to produce a strong, long-lasting cerebral rush and the super-delicious taste. Although the smoke is smooth, It will literally knock you off your feet the first time you inhale it. Once you get over the initial reaction, your mind and body will be overtaken by a nice, calming effect. These attributes alone makes the Cherry Pie a winner among those who use it to self-medicate. The potency tends to vary depending on the batch. It's not uncommon for users to experience a crash after a few hours.
Cherry Pie Strain Characteristics and Growth
The Cherry Pie buds are dense with a multitude of green, maroon, and dark purple colors. True Cherry Pie buds have a sticky consistency, and orange hairs cover the purple tips. This plant is very easy to grow and can be grown both indoors and outdoors. The Cherry Pie strain loves warm weather, so it must be planted during the summer months to thrive. If planted indoors, it should have the proper supply of nutrients for optimal growth. Flowering generally takes place between eight to nine weeks, and the crop is ready for harvest sometime in late October. Yields range between 400 to 450 per square meter, and the THC level is between 16 and 18 percent.