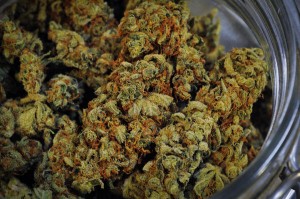 Fruity Pebbles is the name of one of the most fruity tasting strains of marijuana. It is an Indica dominant hybrid and bears an uncanny resemblance to the brand of breakfast cereal. It is a light green bud that is dusted with trichomes that look like tiny white spots. There is some purple in its lineage. The smell, like it's name, is uniquely fruity and almost syrupy.
Pros of Fruity Pebbles
The best thing about this strain of medicinal marijuana is the complete lack of aftertaste, which is quite hard to find with most other strains. The worst thing about Fruity Pebbles is that the smoke is very harsh, which can induce episodic coughing fits. There are of course other negative side effects, which include dizziness, dry eyes and mouth, headaches, and even paranoia.
This type of marijuana can be very leafy if grown in an incorrect environment and growers need to take the time to cure it properly. If grown to perfection, this strain breaks down well for smoking and the outdoor grown strains usually cause fewer grievances for patients.
Helps with these Conditions
Fruity Pebbles is a good alternative medicine for relieving the symptoms of stress and anxiety. It has even been known to help patients with eating disorders. A recent study on mice has proven that adding cannabinoids to the food of formerly starved "anorexic" mice, helped them to regain normal weight quickly, whereas the control group of starved mice that was just fed with normal food never actually regained the lost weight.
Effects of Fruity Pebbles
Fruity Pebbles affects patients differently. For some, it creates a feeling of being in a daydream and can also cause them to feel slower and more forgetful. Strangely enough, for other patients, the exact opposite occurs and they feel more energetic than they did beforehand. The buzz lasts quite a long time, usually between 2 and 2.5 hours.
This type of strain really needs to be experimented with, as each individual seems to react so differently to it. If possible, find the outdoor grown strains, which seem to provide the best experience and be prepared to enjoy a smooth, fruity tasting marijuana.