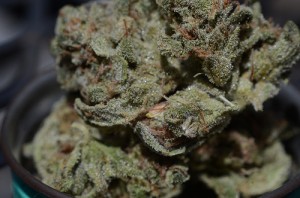 Ghost Kush is a great strain for those that love Indicas but do not want that couch lock feeling. Ghost Kush will help you with pain, depression, anxiety and many of the other ailments Indicas are known to help treat, however it does not give you that feeling like you need to pass out immediately.
We found that you could still function in daily activities while taking these meds. You may not want to walk into a board meeting or anything like that but if you are doing recreational activities do not be afraid of couch lock while taking Ghost Kush.
Having said that we did try this medicine out before bed time and found that as we came down from the high we felt the perfect amount of sleepiness. I personally slept extremely well and didn't wake up my usual 1-2 times a night.
Ghost Kush is an Indica dominant strain having 70% of its genetics from the Indica plant. The smell is great, a very citrus smell almost like fruit loops. The smoke is very smooth, of course this will depend on how it is cured but our version was top of the line smooth and tasty.
Bag appeal was great too with dense buds with orange everywhere, like gold nuggets.
If you are a novice smoker I would think this strain could get heavy for you. A few hits is all you need to get you where you want to be. For heavier medical users I say fire away and enjoy another great kush strain.
Photo credit: JosephAdams / Foter / CC BY