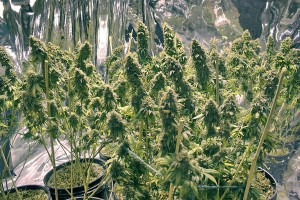 Gods Gift strain is a potent cross, between two other legendary strains, Grand Daddy Purple and OG Kush. This strain originated in Northern California, where it became popular, its use has spread to other parts of the country. Originally the strain was called Barney, but the name was changed to the more appropriate Gods Gift. It is very similar to Purple Urkle, which has the same parentage.
Roots
It is an Indica dominant strain, some say it is approximately 90 % Indica and 10% Sativa, others that it is 75% Indica and 35% Sativa, still other claim 70% Indica to 30% Sativa. Although there seems to be some question as to the actual percentage of Indica to Sativa, it is clear that Indica predominates in the cross, both in percentage, and in effects when consumed.
Potency
The potency, of this herb was between 18% to 22% when tested in a laboratory , which means it is not suitable for low tolerance individuals, or persons who are not used to strong herbal medicine. It is good for people who have a high tolerance for MMJ, or need the potency to deal with severe pain or other illness. The effects are long lasting, with patients reporting highs lasting 2-4 hours.
Physical Attributes
The buds are attractive, purple, sweetish and fruity smelling, buds can be a little leafy but still are a great smoke. When the bud is broken up, the inside shows brighter colors. It looks and smells as good as it is potent, with a scent that is reminiscent of grapes or berries, and hash.
Gods Gift is a very popular strain, due to its high THC levels. and beneficial effects which are said to include relief from stress, depression, anxiety, and is useful for chronic pain, insomnia, migraine, PMS, Multiple Sclerosis, chemotherapy side effects, vomiting, Parkinson's Disease, nausea, anorexia. In addition to relieving pain, it gives joyful and peaceful feelings, and doesn't just sedate in its pain relief. It is very relaxing and so is good for insomnia. Gods Gift has a pleasantly fruity flavor that has been described as grape like, or berry flavored, with a citrus or lemony flavors, along with the resin taste.
Gods Gift is an easy plant to grow, if one has the space and time to do so. The seeds are expensive. Gods Gift is supposed to be a good strain for beginning growers, as it will tolerate under watering, or incorrectly added nutrients, however as with any crop, care in growing will yield a better harvest. The plants may be grown indoors or outdoors. Outdoor plants, grown in California, will be ready in October. Plants will grow about 4 ft tall.