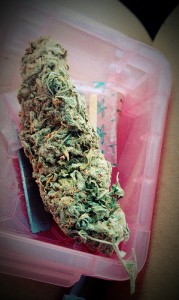 Irish folklore has always told us that in order to find a leprechaun's gold, we need only find the end of a rainbow. Hmm. Tempting…but for those of us who simply don't have the time (or the Skittles) to be chasing rainbows, why not just go for the green?
The marijuana strain known as "Pot of Gold" originated in the mountainous regions of Afghanistan. An Indica hybrid conceived from the Skunk #1 and Hindu Kush strains, Pot of Gold has seen tremendous popularity in recent years amongst recreational and medical tokers alike! Let's take a closer look at the characteristics that make this strain such a hot commodity!
Appearance
Medium/Dark Green in color
Very sticky surface
Dense buds
Uses Include…
Medical- Users report positive results when used to manage anxiety, nausea, depression, and chronic pain.
Recreational- Most users agree that Pot of Gold gives them a creative, happy buzz.
Taste
THC Content
14-20%
Your Experience
Rapid onset
Starts with a mind buzz, then gradually gives way to full-body effects
The high is pleasant, giving the user a few hours of happiness and feelings of well-being
Nice comedown, generally a feeling of pleasant relaxation will come over the user at this point.
Wanna Do Some Gardening?
Pot of Gold can be grown indoors or outdoors. It is recommended that the growth environment has little to no humidity and a lot of air circulation. This strain takes about 8 weeks to vegetate and is best when harvested in mid-October. On average, the height of the plant is about 3 feet tall by the time the growth cycle is complete.
Honorable Mentions
Received an Honorable Mention in the High Times Cannabis Cup (1998)
Placed 3rd in the High Times Indica Cup (2003)
Wrap-Up
Overall, Pot of Gold speaks for itself. No doubt that the versatility of this strain is what appeals to it's loyal fans the most. Whether you're looking to manage the pesky symptoms of a chronic health condition, or just looking to kick pack and enjoy the day, this is the green for you!
Have fun, Gold Miners!