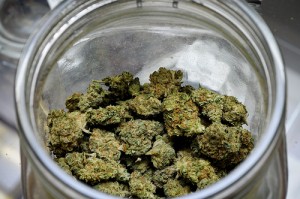 The Headband Cannabis Strain is comprised of a mixture of Master Kush, OG Kush and Sour Diesel. This particular strain results in a pleasant tasting smoke and is known for being an excellent choice for relieving stress, chronic pain and inviting relaxation. In addition, Headband is a good sleep aid that can assist with increasing the appetite in most users.
Some users report feeling like they are literally wearing a head band when medicating with this particular strain, which likely contributes to the name. Headband should be classified as a "heavy hybrid" due to the foggy headed feeling patients often feel, which is likely due to the Sour Diesel component. The OG Kush could be the attributing factor for the strong body buzz users will no doubt experience. Headband is a favorite strain all over due to its quick acting relief of a variety of ailments and the euphoric symptoms patients experience.
According to patient feedback, HeadBand particularly gets positive marks from patients and users for euphoric, happy, focused and uplifting feelings it tends to create. This strain is great for minor pain relief without physical fatigue side effects that are often associated with Indica strains. Some patients have indicated that Headband is most useful for instantly relieving shoulder and neck pain.
The negatives of Headband as reported by patients include dry mouth, headaches, paranoia and dry eyes. It is important to remember that Headband is considered a heavier type of hybrid, so it's not best to medicate before attempting to perform tasks that require full attention such as driving or working. Anxiety and nervousness weren't particularly indicated, but a trippy or dizzy experience is often found by users.
Patients have reported that Headband has a hashy-type taste with incense like undertones and lemony flavors upon exhaling. In addition, Headband tends to smell like countryside greens and isn't known for being very dank in smell.
Potency can vary as with most strains of cannabis, but Headband is known to last anywhere between one and two hours in duration. Users find that Headband provides a solid but not completely overpowering body high that includes obvious cerebral stimulation.
Photo credit: Dank Depot / Foter / CC BY