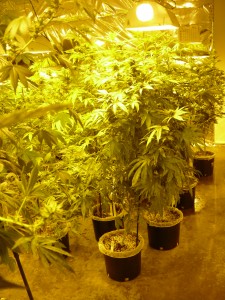 Orange Bud is one of the strongest and easiest strains of marijuana to cultivate and maintain while growing. It is a hybrid plant that was first bred by Dutch Passion in the 1980s. Orange has the ability to grow both indoors and outdoors with a flowering period of about 8 weeks. This plant can grow anywhere from around 2 to 3 feet with a THC content of between 15 and 16%. Within a short time period of time after smoking it, Orange Bud makes you feel things like happy, euphoric, hungry, creative, energetic and uplifted.
With a potent strain, you only need very little of it to start feeling its effects. This weed will either inspire you to do something or it can be used for meditating purposes. This strain is also known to spark thoughts or ideas for the user. The positive feelings can last for a few hours. It is also said to give you a really clear high and can be smoked during the day as it doesn't leave you feeling incredible lazy. Orange is 80% Sativa and 20% Indica, so you will experience both cerebral highs as well as a body high when smoking this particular strain.
Orange Bud is called orange because of its fruity taste. There can also be a mix of cloves or a mint taste to go along with the fruitiness. It is also covered with orange and pink hairs and also smells like orange. Orange is a higher quality weed that will also smell like oranges when you prepare to smoke it. Once it is being smoked, there are orange undertones but it will also have a little bit of a harsher taste but still with that citrus aftertaste. Even with that being said, it is not a harsh strain of marijuana.
'Orange Bud is a slightly more evolved version because it has a higher THC content than other versions of it like the classic Orange bud. '
It helps patients relieve symptoms like depression, anxiety, migraines, fatigue, anorexia, bipolar disorder, aches, pain, stress and PMS.
Unfortunately like with all other strains of marijuana, too much of Orange Bud can have some downsides to it. Some side effects associated with Orange Bud that you may experience are dry mouth, dry eyes, paranoia, headaches and dizziness. Side effects tend to be more prevalent only when the drug is consumed in large does.