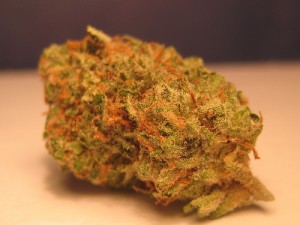 As medical marijuana therapy becomes more and more mainstream, patients have more and more options among plants strains to choose from. One such strain now showing up in dispensaries is Red Dragon. This strain is a cultivated hybrid, the result of combining a Brazilian strain with a Himalayan one, and has long been popular with recreational smokers for its "exotic" highs. It certainly has a catchy name, but does the Dragon offer much in the way of medical benefits?
The Good News First
The most positive news about this strain is that when it's effective, it's really effective. Red Dragon has a strong, pleasant taste alternately described as "piney" or "fruity". Red Dragon has a strong, pine tree like aroma,and a slow acting, long lasting effect. Users have not noted an immediate effect when consuming this product, but note that when it does become apparent, it provides relief for hours. For those who found relief with this strain, it appeared to be most useful as a 
anti-stress
 medication or to relieve 
depression
. It's important to note here however, that while this drug has been smoked recreationally for its "happy" highs, a negative side effect for some users has been paranoia. Because of this, some patients should be cautious in using Red Dragon as a treatment for anxiety or stress. Red Dragon has also shown good results as an 
anti-nausea
 medication. It's also somewhat effective as an 
appetite enhancer
. While Red Dragon doesn't usually produce a sedative effect, users felt it enhanced or improved 
sleep
, probably because of the sense of over-all well being it promotes. 
MS
 sufferers reported some good results, again probably largely to its anti-stress effects.
But It's Not All Good News
There's absolutely nothing wrong with feeling good, and those who get that effect from Red Dragon feel really, 
really
 good. But if you want to feel more than "euphoric" when consuming this product? You might be less satisfied. For example, as a treatment for 
migraines
, Red Dragon not only doesn't alleviate symptoms, it seems to trigger them. Users found this strain to be largely ineffective in relieving 
pain
, regardless of the malady causing it. As a result, those suffering from 
back issues, arthritis
, and 
fibromyalgia
 among other complaints found this strain to be not very useful. 
Glaucoma
 sufferers and those consuming it as an 
anti-seizure
 medication also found Red Dragon to be ineffective.
The bottom line? Red Dragon has some limited medical use, especially as an anti-depressant, but should be used with caution because of side effects, which include the aforementioned paranoia, and some functioning capabilities.