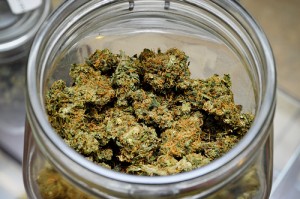 Sensi Star is one of the more popular strains for medical marijuana. It is a strain of Indica and has been given a Grade A classification by smokers. It has a strong body and grows fast. This ensures that the growth cycle of 7 to 8 weeks keeps up with the demand if you are able to plant it in your backyard. Because of the rapid growth cycle, it can also be more affordable to obtain.
In 55 days, Sensi Star can produce as much as 500 grams. It can be grown indoors or outdoors because the height is not an issue. Instead, it is a short, thick plant that has dark green leaves branching out.
The reason that the Sensi Star strain is so popular is because of the 20 percent THC level. It also has a considerable amount of trichomes. It's a little strange looking, but it can be used for depression, anxiety and chronic pain. The medicinal effects can be had when it is imbibed or smoked.
What to Expect
When it comes to the Sensi Star strain of medicinal marijuana, it's important to know what to expect when it is smoked.
The smell is sweet outside of the jar and very potent within. The sweet smell is pleasing and tends to linger in the air.
The taste is smooth with a sweet, hashy taste.
The potency is stronger than that of standard marijuana. One to two tokes is all that is required in order to have a relaxing mind frame for the next two hours. It has been considered to be a great solution for insomnia.
When You Should Use It
Your doctor may or may not talk to you about the different strains of medicinal marijuana on the market and that means that you are on your own for determining what the best strain is for what you plan on using the marijuana for.
Many people refer to Sensi Star as a "couch lock." Essentially, if you need to have a mild sedative in order to control the pain or to finally get a good night's sleep, this is the strain that you want in your possession. It's got a smooth taste and it's one of the easier strains to acquire. If you can plant it, it's even more to your benefit, but it will depend on the state you live in for the sake of legalities.