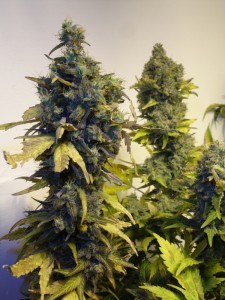 Space Bomb is a sativa-dominant (3/5ths) crossbreed of a strain, and is the product of grower TGA Seeds' intermingling of Tiny Bomb and Space Queen. Part of the reasoning behind such a parentage was so that users could enjoy Tiny Bomb, a clone-only strain, as a seed. This strain is noted for a rich potpourri wood, lemony citrus, earthiness, and even a medicinal odor and its buds are laden with hairs and trichome-rich crystals when fully grown.
Medicinal Uses of Space Bomb
Space Bomb is an excellent means of treating stress levels or depression, although it has a much less potent effect upon individuals suffering from fatigue, lacking hunger, or pain. Space Bomb can be prescribed for patients dealing with anxiety, AD(H)D, cancer, migraine headaches, or premenstrual syndrome.
General Effects of Space Bomb
This strain is a wonderful solution for those looking to attain a sense of blissful tranquility, with only slightly less potent effects upon the user's sense of joy and left-brain thought. Users of just about any tolerance level should have no problem acquiring the benefits of Space Bomb; benefits that are great for the user interested in taking a break or trying to come up with some esoteric solutions.
Drawbacks and Negatives of Space Bomb
The most likely negatives from partaking of Space Bomb would be dryness of the eyes, mouth, and paranoid delusions, in order of most to least likely to occur. It's worth noting that some rare instances of dizziness have overtaken users. This strain's potency renders its consumption a bad idea if taken in a decent capacity prior to driving around, although the quickness that it sets in may take care of that situation for you; while not necessary a "couch-locker," Space Bombdefinitely induces a state of peaceful indolence.
Other Information Regarding Space Bomb
Although introduced to the market back in 2006, Space Bomb made it into the Top 10 of High Times' Cannabis Cup for 2009. Interested parties considering the venture of growing some Space Bomb will be pleased to know that this particular strain of cannabis reaches its flowering stage over the relatively quick time period of 49 to 56 days.