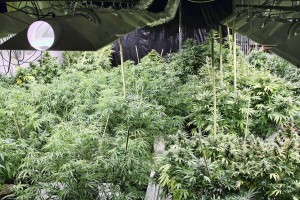 One of the first things you will notice coming from the Tangie is the very pungent aroma of citrus. Some users could have heard it called the tangerine dream. This is not a new strain, in fact, it has been around for more than a decade. If you intend to cultivate the Tangie you will need to keep two things in mind. First of all, the taste will improve when the strain runs its course in a healthy soil. Additionally, you will need to compensate for the height because the plant likes to grow upwards at least for the first few weeks.
Appearances
Some users have compared the Tangie strain to the popular agent orange and that is probably because of the citrus flavor. There is no similarity in these two strains other than the aroma, in fact, the Tangie is definitely the preferred choice in the flavor department. The product itself is very impressive to look at with the orange hairs interwoven with the natural green of the plant. The orange appearance is visible but not overpowering, especially not if you were to compare its aroma. Users will appreciate the way the product burns evenly, providing a well balanced and long lasting smoking experience.
Historically Speaking
Although the Tangie has been around for quite some time, it is still difficult to put your hands on it. That could be due to a combination of its impressive showing at the 2013 Cannabis and the name it has made for itself since then. Breeders will tell you that this one of the best hybrid strains that contain just 30% indica and as much as 70% sativa. If you are wondering where the orange aroma and taste comes from it is a blend that is heavily influenced by California orange. The good news is that the strain is flourishing and should be readily available for all to try.
The Exposure
If this is your initial attempt at smoking the Tangie you may wish to use a bong. Exposure to the smoke is not comparable to the orange aroma. This simply means that you will not experience and overpowering taste of orange. The Tangie provides a great deal of relief for patients suffering with pain, however, don't expect it to be overpowering. The balance between the subtle orange and other natural flavors are enjoyable. In the final analysis, when you are ready to try this strain make sure you have plenty to go around.
Photo credit: Coleen Danger / Foter / CC BY-SA