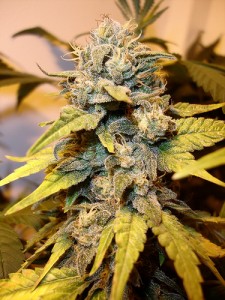 Trinity Strain is a very potent and very popular strain of weed in America today. Imagine smoking this stuff and just relaxing in a trance like state while eating popcorn during a Sunday night football game. It is the most popular strain in Oregon, Colorado, and in Las Vegas as well. It has been claimed that those living in Northern California have an easiest time growing this variety.
Its attributes include coming in many exciting flavors like berry and blueberry. These flavors excite your taste buds and they tend to crave the sour and tangy taste that each of these delightful treats give off in your mouth.
Here is a list of some of the attributes for easy remembrance and digestion.
1. Known to alleviate depression, stress, pain ,and even insomnia.
2. Has a strong musky smell like what you would find under your armpits after not bathing for a week.
3. Flavor can be sweet, sour, or a real ground dirt taste as well.
4. Has a long lasting effect on you and your body.
5. Trinity has been know to make people feel innovative, enthusiastic,ecstatic,joyful, and have an overall feeling of giddy when interacting with others or just talking to themselves as a result of taking this next level drug.
Some of the negative effects of taking Trinity are:
1. Getting lightheaded and feeling like the room is spinning.
2. Dry mouth
3. A feeling of confusion and hypersensitivity to everything around you.
4. Migraines
This strain is noted for its short growing season duration of just over 40 days indoor. This allows many people to be able to enjoy the lasting effects of something more potent without having to retreat for more so soon. If you do get your hands on one of these plants, save it! It could be worth a lot to you in the near future. If you get a full plant and not just a sample; then hang on to it and cultivate it until you are personally ready to enjoy it to relive your own pain and depression or someone in your family who is suffering.