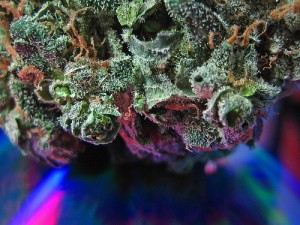 The Bubble Gum strain is well-known for its euphoric effect and undeniable sweet smell as well as its usefulness in the medical field. As an introduction, the Bubble Gum is a medium height plant that is plainly branched and produces compact and crystal covered buds. This strain was originally developed in Indiana, USA. Its development was later on transferred to Holland which took several generations to eventually produce a stable strain. At the present, the strain boasts its characteristic sweet smell and euphoric effect. These are the original attributes of this famous strain.
As an Indica dominant strain, the Bubble Gum garnered four High Times Cannabis Cups due to the potent euphoric effect and powerful sweet scent. Beginners can cultivate this strain but would require regular clipping in order to control the height. The flowers that are 55-60 days old can produce 350-500 grams per square meter. The distinctive bubblegum scent of the plant is remarkable.
Effects of the Bubble Gum Strain
With this strain, it boasts the classic qualities of the old-school Indica. As a result, it provides a euphoric, happy and uplifted disposition. In some individuals, it boosted their creativity levels. Once the initial effects wear off, you will develop noticeable sluggishness and tiredness for the next two hours. It will even loosen your muscles but can provide a boost on your appetite.
Medical uses of the Bubble Gum
The Bubble Gum strain should be appropriately labeled for night time use only. It can provide potent medicinal effects such as for pain, anti-anxiety disorders and for relaxation. Individuals who have used this strain find it useful in fighting stress, tension, anxiety and other emotional issues. With its mood-elevating properties, it is
ideal for those who are depressed. For appetite-related issues particularly loss of appetite and anorexia nervosa, this medicinal strain can be used. Additionally, it can also be used to fight nausea as well as insomnia.
Drawbacks of Bubble Gum
Even though it provides beneficial effects, some individuals have suffered from dry eyes and mouth. For those who use glasses or contact lenses, it is best to remove them when using the strain. In some cases, individuals also experience paranoia and dizziness.
As a conclusion, the Bubble Gum strain is considered as a well-balance medicinal strain that can provide enough strength for experienced individuals. It is best to use this strain for anxiety-related issues as well as insomnia and to increase the appetite. As for those who suffer from vertigo or dizziness, this strain should be avoided.