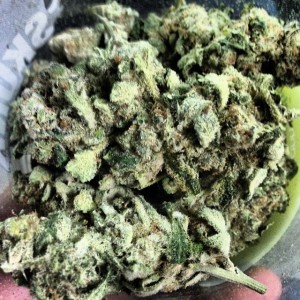 Burmese Kush is a wonderful hybrid strain, which has many positive attributes and effects. In addition to a sweet taste and a gentle, euphoric buzz, the effects of this plant can be useful in combating many common physical and mental ailments. Users will note this strain has an earthy, piney smell. The plant is deep green, and typically stays small, which makes it possible to grow it both indoors and outside. The sea of green method is useful for growing this plant outdoors, since it rarely grows higher than three feet, and has minimal branching.
Known for its lingering, sweet pine flavor, Burmese Kush is well-regarded. The flavor is distinctive, but generally liked by its users. Many people enjoy the sweetness of this plant compared to the earthier, skunky, flavor of other types of cannabis. This strain was created by TH Seeds who bred their OG Kush with a strain from Burma. With 60% Indica and 40% Sativa, Burmese Kush was designed to offer the best of both worlds.
Users agree that the effects of this strain are praise-worthy. The high created by Burmese Kush is a creeper. The buzz creates feelings of euphoria which grow into a pleasant, clear, cerebral calm. Users feel an increasing body high, as well, which can lead to deep relaxation. As well as the common side-effects of dry mouth and hunger, Burmese Kush also may cause paranoia, headaches and dizziness in certain users.
One of the most common uses for this strain is the treatment of anxiety. The happy, calming buzz can help users with depression, tension, stress and other mental anxiety issues. Aside from the head high, Burmese Kush can be used for tension in muscles, body pain, and nausea. It is best to use this strain in the evening, after a user is in for the night, because it is not recommended to drive or attempt anything active after enjoying this plant.
The best use of Burmese Kush may be its medical implications. This strain can help those with stomach disorders that cause nausea and/or loss of appetite, as well as those who suffer from migraines, and chronic pain disorders. It can help cancer patients with many side effects of treatment. Those who deal with insomnia, or low-quality sleep can also be positively impacted by the calming body buzz of Burmese Kush.