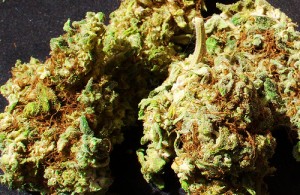 White Russian is a THC-rich strain that is a stable cross between the White Widow and AK-47 strains. White Russian's strong indica background creates consistently high THC levels near or at 22%. This strain is possibly the most THC-potent plant known. It has become a favorite among both patients and growers.
The appearance, odor and taste of White Russian are all pleasantly distinct. The buds have a frosted, snowy trichomes due to its resin coating with gold and greens mixed with a multitude of orange hairs. It is reported being not too dense but not too airy. The pungent fragrance is very floral and rosy with subtle nutty earth undertones. White Russian offers a smooth and full-bodied taste that is sweet and heavy.
Attributes
Indica strains traditionally offer a strong physical body high that makes users sleepy and lethargic while providing a deep relaxation feeling. White Russian is unusual in that it gives a cerebral and energetic high which is usually found in sativa strains. Patients report euphoric, uplifted and happy feelings while using this strain. The reported negative side effects, dizziness, dry eyes and dry mouth are common to most marijuana strains.
Medical Uses
Patients use the White Russian strain to relieve stress caused by anxiety, post-traumatic stress disorder (PTSD), attention deficit disorder (ADD), or attention deficit hyperactivity disorder (ADHD). This strain is also used to help relieve migraines, symptoms from gastrointestinal disorder, symptoms of depression and general pain. It also helps with appetite stimulation. White Russian is the preferred strain for daytime medication because it does not create a foggy or spacey high but rather a clear-headed and energetic high that has a long duration of. It is recommended for patients who need symptom relief but also need to stay productive and task-oriented.
White Russian is not recommended for patients who are new to marijuana medication. The extremely strong potency of this strain can create an overwhelming and uncomfortable high for those who are new to medicinal marijuana's effects. This strain is also not recommended for long term pain management as strains with lower THC content are just as effective without producing such a powerful high.