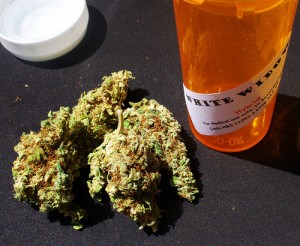 White widow is one of the most famous marijuana strains in the world. It has a pungently piney, earthy, taste and odor. Many marijuana aficionados believe it to be one of the best all-around strains out there. That's the reason this strain is used in many hybrid configurations, mixing with everything from silver haze and northern lights to crystal, crack and wreck.
White widow is known to strain connoisseurs for top crystals that look like sugar. Developed in the early 1990s, the strain has been immortalized in music and culture. It was a main staple in the television series, "Weeds." It also is the stuff of rap songs. It's one of the top menu items in Dutch cannabis coffee shops. The reason for all this is the strain is very powerful with a potent punch.
While the strain is strong, it also is very social. It is a relaxing buzz that goes down smooth and is great as smoke, vapors, edibles and more. People who like white widow also reported liking sour diesel, trainwreck, blackberry kush, lemon haze and green crack.
White widow is known for effects including:
• Creativity
• Energy
• Euphoria
• Happiness
• Being uplifted
Its top medical uses include:
• Depression
• Pain
• Stress
• Insomnia
• Nausea
White widow is an indica dominant hybrid strain. It grades out to an "A" in medicinal marijuana consumer ratings and a 4.2 out of a possible five stars by Leafly reviewers. The strain features light green buds heavily encrusted with trichomes. It's crystal look and top potency translates well into creating other hybrids. The piney vapor has a tangible touch of citrus and spice. It's a mellow smoke or vape with a slightly lemon taste and goes great in cooked products.
The strain is versatile and works very well in daytime or nighttime applications. It produces a clear, energetic effect. Users comment on the top head buzz it gives while not producing a heavy body slam. While it's great for pain relief, relaxing and social situations, it also can produce some backlash.
Possible side effects include:
• Dry eyes
• Dry mouth
• Headaches
• Dizziness
• Paranoia
The final assessment by most users, however, is that White widow doesn't disappoint those looking for top potency with clarity and energy along with pain relief. It's popularity and many enjoyable effects means the strain can be found close to most homes in pure form or mixed with other strains for top effect.