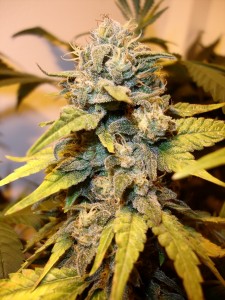 A SAGE Trainwreck
Some strains of cannabis are combinations of Sativa and Indica, Wreckage is just such a one. She came by it naturally, since she descended from the pairing of S.A.G.E. and Trainwreck. These two parent strains both bring that superior high that soars, but with crystal clarity. Since the parents grow up into plants that look so different, with the S.A.G.E. branching quickly from the bottom and the Trainwreck popping up tall and skinny, with flowers sprinkled up the way, buds of Sativa blooms in a row, it's no wonder their offspring is named Wreckage. The split is about 90% Sativa and 10% Indica. It grows as a complete overlay of the two, with crazy branching layered with thick Afgani plumage all over the place. Many marijuana patients go for the resulting lovely scented sticky treatments Wreckage provides.
Great Medication
Some have called Wreckage treats "mouth numbing" with their splashes of menthol and lemon that has been smoothed to soft sandalwood, spiced to loose a rush of clean frosty thought-provoking highs, banishing pain and making you want to explain… everything. Or, maybe explain like a stand-up comic does, because everything gets so funny and fun. It is a very active, energetic high, and reported to be highly effective at combating chronic pain and some types of fatigue.
Finding The Wreckage
The Wreckage is new enough that it may be a little bit hard to locate, as some medical marijuana dispensaries are yet to discover it. When the chance comes, try a little bit and see how this new medication works for you. Many patients are responding well to it. Some patients have reported taking just a tiny nugget and experiencing complete freedom from pain, while developing a warm glow slowly pulsing throughout. In the Pacific Northwest, this strain is also known as "The Don". Many patients report it as the strongest, most effective treatment they have tried, and yet it is an easy feeling, non-debilitating happy they report, not zonked out on the couch all day, or anything like that. If your local dispensary doesn't carry Wreckage, ask them to find a source, so they can begin offering this special cannabis strain.