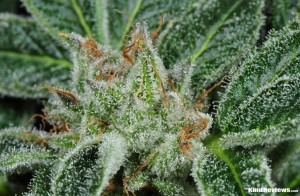 Introduction
Ogre is one of the heaviest cannabis genetics, which is an Indica-dominant hybrid from the Bubba Kush and Master Kush. This strain is developed by combining Master Kush and Bubba Kush at the ratio of 70 to 30. Ogre has a THC content of about 18.7 percent, which means that is will give the user a classical and powerful Indica-style stone. This strain can be used for medical purposes because it has the potency to make patients sleep, which can provide the sickest with an opportunity to rest. No doubt, patients suffering from terminal illnesses, such as cancer experience a lot of pain from the various treatments, such as chemotherapy and radiotherapy used to combat the disease. Ogre can help them to rest, so that their bodies can rejuvenate.
Aroma
Ogre has a Kush-like aroma, which is basically lemony citrus. It also has a slight licorice and skunk whiff, with a dash of mint. The smell can be attributed to the fact that it is a cross between the Master Kush, which has skunk within its genetics. On the other hand, the Bubba Kush genetics within the Ogre gives it the heavy effect, which is common in most of the sativa strains. In essence, Ogre has an earthly taste and smell that is accompanied with a tidbit of sweetness emanating from the Bubba.
Effects
After smoking Ogre, the user experiences euphoric uplifting feelings that also send numbing waves throughout the body. This helps in relieving pain and sends the person to sleep. The strain makes most users to feel lazy and knocks them off the socks completely, inducing deep sleep. In other users, Ogre increases the urge to eat, which is helpful to patients who have lost appetite due to illnesses.
Medical uses
Due to its effects, Ogre can be used to relieve pain, increase appetite and induce feelings of happiness. It can be used for relieving symptoms associated with various medical conditions including stress, PSTD, anxiety, arthritis, Fibromyalgia, pain, depression, PMS, headaches and migraines and glaucoma. Ogre also increases appetite in patients suffering from terminal illnesses, such as AIDS and cancer, enabling them to regain their strength. The fact that it induces strong happy feelings means that it can help in combating stress and anxiety. Moreover, its effects make severe pain more manageable and tolerable in most patients.
Caution
Ogre should be used  in the evening or late in the day when sleep and relaxation are the main agenda. Some of the side effects associated with the strain include paranoia, dry eyes and mouth, headaches and dizziness.