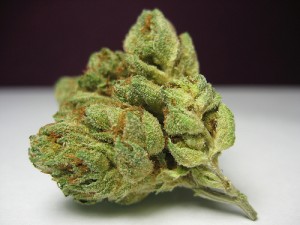 The only legal use of marijuana today is currently for medicinal purposes. When bought at an authorized medicinal marijuana dealer it becomes a legal form of relief for many people. Medicinal marijuana is found to relieve the symptoms of almost every disease or ailment. It is also one of the most popular forms of stress relief and relaxation in the world. New strains are being experimented with and grown by growers constantly. When a new powerful and effective strain is created the demand for it can be overwhelming. One of these new hybrid strains is called the Girl Scout Cookie. Users have been talking about this strain constantly as of late, and it has become known as one of the smoothest yet powerful and relaxing strains currently on the market.
Girl Scout Cookie is classified as an Indica type strain. It can be grown in both indoor and outdoor environments with a good amount of success. The flowering time is fairly long at 9-10 weeks. The yield is usually quite good with most single plants netting up to 2 ounces. THC levels in this strain are around 18-23%- sometimes lower depending on the quality. Due to the hype and attention to this strain, expect to pay a steep price at around $60+ for an eighth of the bud. Currently it is quite popular in California around the San Francisco Bay area. Seeds are available by order via mail and at medicinal marijuana shops across the country. Be sure to follow local laws when ordering seeds or buds through the mail.
The effects of Girl Scout Cookie are well known throughout the marijuana community with many claiming it to be the best they have ever smoked. The smell is mostly skunky with slight hints of mint undertones. The taste is comparable to cotton candy with bits of spice. Hints of cherry, lemon, and even chocolate can be tasted. The high is powerful and relaxing. It hits you hard and slowly begins to trickle down into all the limbs and extremities. The intense sedation effects allow the smoker to chill out and let all the stresses of the day just melt away into the abyss. The effects make this strain a popular choice for poor appetite, stress, insomnia, anxiety, and depression. The high differs from 2 hours all the way up to the whole day depending on the quality and amount smoked. Girl Scout Cookie is one of the most popular strains available today, and the hype is well deserved for this phenomenal bud.
Photo credit: Nickel Bag of Funk / Foter / CC BY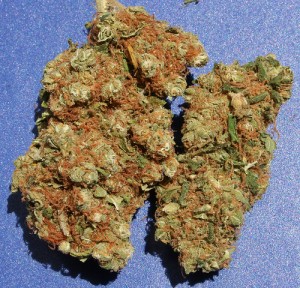 For anyone who is looking for relief with the assistance of medical marijuana, there are many different strands out there, all of which provide slightly different variations and side effects. Because of this, it is very important to know exactly what the strains of marijuana are able to provide in terms of relief, effects and any possible negative attributes associated with it. This way, it is possible to know exactly what to expect and how it is going to help. One such cannabis strain is the OG Kush.
When it comes to helpful assistance, OG Kush is specifically designed for stress relief. This is the top medical offering of the strain. Roughly the same number of individuals use the strain for pain relief and anxiety problems, although about twice as many people use it for stress. The OG Kush strain helps with insomnia and it does also provide help for anyone who is suffering form a lack of appetite.
There are some effects of the OG Kush strain that you need to be made aware of. This way, you know when it is appropriate to take the medicinal marijuana and how it is going to alter what you are able to do. The number one effect patients feel is euphoric, with lazy coming in as a close second. This is not a strain you want to take when you still have a large amount of work to do. While it is still possible to complete your necessary tasks, it is much more difficult after using OG Kush. The third effect is patients feel happier as well as uplifted, which is the fourth effect. Lastly, patients do often report feeling sleepy. This is why the OG Kush strain is an effective cannabis strain to partake with before bed, as when you wake up you should feel relief from pain, in a better mood and not have to deal with the euphoric and lazy feelings.
There are some negative side effects to the OG Kush strain. The top side effect, by far, is patients suffer from dry mouth. Fewer than half of the individuals who suffer from dry mouth report to suffer from dry eyes, although it is a good idea to have eye drops on hand, just in case. A small amount of individuals, typically those who are new to the strain, suffer paranoia, while very few experience dizziness and anxiety.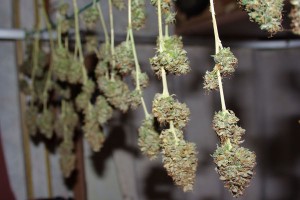 Marijuana cultivation is a an art and a science, yet many novice growers view harvest time the way a child views Christmas, as pay off for good work. While harvesting your crop certainly should be a pay off, underestimating this final step can harm your buds and compromise months of time and labor. That said, here are three key harvest time tips to ensure you receive the highest quality outcome from your cannabis plants.
Flushing
The first tip to harvesting involves mastering the fine art of flushing. Flushing is the last critical step in the flowering process and the first step of the harvest. Beginning two weeks before harvest, flushing involves denying all nutrients to the plant by feeding it nothing but pure water. Built-up nutrients can tarnish the taste and burnability of the final product, therefore, it is imperative to properly flush.
First, flood the plant with lots of pure water. Wait a few minutes to allow all of the nutrients to break down, then repeat the process. A common mistake new growers make is to only flush the plants once; this is often not enough to completely dissolve the buildup of nutrients. A day or two before harvesting, flush a third and final time.
Cutting
The next tip involves cutting. 24-48 hours after the final flush, begin harvesting your plants by first cutting away from the root ball or, if the plants are too large, by cutting the bigger branches first. However, it is important to leave the stems connected to the branches being cut. These will facilitate in hang drying. After all of the plants are cut, hang them upside down with room between each in order to get maximum air flow around the buds.
Curing

Buds should continue to dry for a week at roughly 70ºF with little humidity. If buds are dried too quickly, the plant can retain unwanted nitrates which would negate the flushing process. After the buds have gradually dried, curing begins. The key tip to curing is patience. The process should take approximately two weeks to produce maximum potency in the buds. Novice growers seek to expedite the process, curing for a only a few days, and dilute the plants potency as a result.
Airtight plastic bins are the best option for curing dried buds. Experienced growers will add a slice of lemon or orange peel toward the end to offset any "plasticy" taste such bins may impart. It is important to open the containers several times a day during the curing process to exchange the evaporated moisture with fresh dry air. After one to two weeks of curing, the harvest is complete and ready to smoke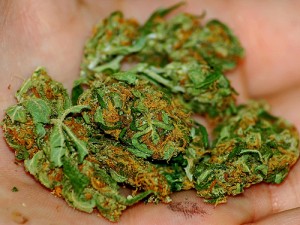 With the different forms of medicinal marijuana available for health purposes, it is important to know and understand what the different strains are and what each is able to provide and accomplish. The Trainwreck strain is one that is available for purchase, and so, if you are considering buying the strain for medicinal purposes, these are a few of the reasons as to why you need to consider it, what it is able to do for you and what medical conditions it helps.
For starters, the strain Trainwreck received its name due to how quickly it is able to affect you. The strain is strong and the affects of the marijuana hits you rather quickly, often from nowhere. This is why it is called Trainwreck, because it hits you quickly and without warning.
Because the strain does produce thicker smoke, it is most likely going to cause you to cough the first time you experience the product. However, it is heavily designed and desirable for individuals who are dealing with stress. The high stress relief product is there to ensure you are able to just relax and not worry about stress, at lest for a little bit. It is also high in reducing pain and anxiety in someone who is consuming the product. To a lesser extent it does help with insomnia and a lack of appetite.
There are some side effects the strain is going to have on someone who is using the product. For starters, the largest side effect is the individual, such as yourself or someone else, is most likely going to feel euphoric. While this is the most common side effect, the distant second affect is uplifted, followed by happy, lazy and creative. Due to the sudden impact of the Trainwreck strain, it is common for the affects to take hold quickly, quickly, which might eventually cause you to have to take it easy for a little bit of time, especially when first becoming use to the product.
As for negative side effects, there are a few different variables to look out for. For starters, most individuals state they suffer from dry mouth and even dry eyes. These are the two most common elements of negative aspects with the strain, but some also comment from feeling dizzy, paranoia and only a slight number from anxiety, but this is usually a side effect of individuals who have never used medical marijuana using the Trainwreck strain early on in the medical process.
Photo credit: katherine_hitt / Foter / CC BY-ND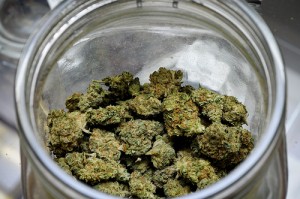 The Headband Cannabis Strain is comprised of a mixture of Master Kush, OG Kush and Sour Diesel. This particular strain results in a pleasant tasting smoke and is known for being an excellent choice for relieving stress, chronic pain and inviting relaxation. In addition, Headband is a good sleep aid that can assist with increasing the appetite in most users.
Some users report feeling like they are literally wearing a head band when medicating with this particular strain, which likely contributes to the name. Headband should be classified as a "heavy hybrid" due to the foggy headed feeling patients often feel, which is likely due to the Sour Diesel component. The OG Kush could be the attributing factor for the strong body buzz users will no doubt experience. Headband is a favorite strain all over due to its quick acting relief of a variety of ailments and the euphoric symptoms patients experience.
According to patient feedback, HeadBand particularly gets positive marks from patients and users for euphoric, happy, focused and uplifting feelings it tends to create. This strain is great for minor pain relief without physical fatigue side effects that are often associated with Indica strains. Some patients have indicated that Headband is most useful for instantly relieving shoulder and neck pain.
The negatives of Headband as reported by patients include dry mouth, headaches, paranoia and dry eyes. It is important to remember that Headband is considered a heavier type of hybrid, so it's not best to medicate before attempting to perform tasks that require full attention such as driving or working. Anxiety and nervousness weren't particularly indicated, but a trippy or dizzy experience is often found by users.
Patients have reported that Headband has a hashy-type taste with incense like undertones and lemony flavors upon exhaling. In addition, Headband tends to smell like countryside greens and isn't known for being very dank in smell.
Potency can vary as with most strains of cannabis, but Headband is known to last anywhere between one and two hours in duration. Users find that Headband provides a solid but not completely overpowering body high that includes obvious cerebral stimulation.
Photo credit: Dank Depot / Foter / CC BY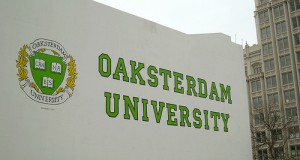 Decades after William Randolph Hearst stared his unfounded smear campaign against the hemp bearing plant cannabis, the United States government is finally starting to recognize that not only is marijuana completely harmless, but it has an abundance of helpful medicinal properties not found anywhere else in nature or in science. California is one of the most liberal states with regards to marijuana use.
They were also the first state to recognize the medical benefits of the plant by making it legal for medicinal purposes. In 2007, a group of cannabis advocates, spearheaded by a man named Richard Lee, saw this as an opportunity to educate those willing to learn about the benefits of cannabis, so they founded Oaksterdam University Oakland, the first school in the United States specifically created to openly advocate for marijuana, educate students about its benefits and teach students how to participate in drug policy reform.
The week that the original Oaksterdam staff announced the direction of this revolutionary new school, they received hundreds of phone calls. The concept of the school sent shockwaves through the community and rallied marijuana advocates across the nation. After careful consideration, Lee and his compatriots whittled hundreds of applicants down to twenty first year students. Because applications continued to flood their doors, they were forced to put new applicants on a three month waiting list on a first come, first serve basis.
The school's inception sparked national attention. They have been interviewed by Fox News, CNBC, G4, Current TV and a host of other national news and entertainment stations. They were also the subject of an hour long special on National Geographic.
As the school grew, they expanded. In 2008, they opened a satellite school in Los Angeles. They didn't stop there, though. A year after opening their Los Angeles campus, they opened two satellite schools in Sebastopol, California and Ann Arbor Michigan, which had recently legalized marijuana. That very same year, they were once again overwhelmed with applicantions to their main school in Oakland. To accommodate as many students as possible, they expanded their main school to a 30,000 square foot campus. The new campus features a state of the art cannabis grow lab, numerous classrooms, two auditoriums and a full sized theater.
With Richard Lee and the Oaksterdam University team always looking for innovative ways to educate those willing to learn about marijuana, one can only wonder what else they have in store.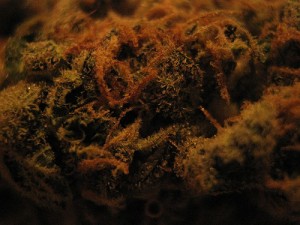 20 states in America have passed laws making the use of medical marijuana legal. Businesses called dispensaries have started selling medical marijuana to patients in the state. Dispensaries get their marijuana from growers who breed their own strains to try and come up with the most potent medicine. Here is an in depth look at one of the strains that have been created, Sour Diesel.
Popularity of Sour Diesel
This strain is known as one of the most widely used strains that have ever been created. It's is extremely popular among the medical marijuana patients in the 20 states that have legalized marijuana. The name comes from a strong distinct stench when burned and often have the effect of giving patients bursts of energy. Since this plant is a Sativa, you can assume that the strongest effects will be on the mind.
A Pick Me Up
By using Sour Diesel as the first medication of your day, it can get you feeling awake and get you going. The body buzz that is commonly associated with marijuana is replaced by the cerebral effects. After smoking or eating this strain, patients often report decreased symptoms of their disease and are instantly more aware and tune into their environment. While working with the brain it can often create tons of ideas and plenty of energy.
Sour Diesel's Ancestors
The origins of Sour Diesel are not well documented but many believe that it comes from mixing original diesel with an unknown skunk phenotype. The roots of this plant consist of super skunk, Northern lights, skunk, and Hawaiian. All of these great strains come together to create this amazing bud.
How to Spot Perfection
To tell if you have a really good version of Sour Diesel, simply smell it. It should be overpoweringly intoxicating. The scent should remind you of the strong smell of lemons and diesel fuel. When looking at the buds, you should see plenty of white crystals and red hairs. The green of this medication should be bold and dark. When squeezing a bud between your fingers it should feel very sticky. By pressing it into a solid surface with your finger and should adhere to it.
Sour Diesel is used medically to reduce stress, anxiety, and pain, as well as to help with the loss of appetite and insomnia. Medical users also enjoy a euphoric and up lifted high. It is often related with causing happiness and up lifted energetic attitude. If you have access to medical marijuana and you think you this strain might help you, try it out today. You will not be disappointed.
Photo credit: mista stagga lee / Foter.com / CC BY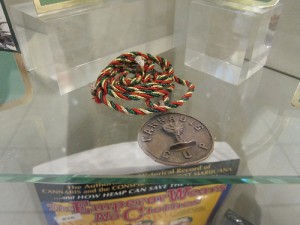 Since its inception in 1987 the High Times Cannabis Cup has been held in Amsterdam until this year. On September 7 and 8 the 2013 Cannabis Cup was held in Seattle. The changing legal situation in America with respect to marijuana has led to the ability to hold the festival in America without fear of legal reprisal.
The High Times Cannabis Cup is both a quasi-religious festival devoted to the enjoyment of cannabis and a business convention centered on the commercial production and business of marijuana and related products. Marijuana and related cannabis products are discussed in both popular terms and scientific terms. As the medical uses of marijuana have grown in importance and understanding this aspect of marijuana has become a growing topic for the Cannabis Cup.
One of the highlights of the festival is the choice of winning products in a number of categories such as best sativa, best booth, or best cbd. The category of cbd refers to varieties developed for medical uses. There are thirteen categories of prizes. High Times maintains a website with a listing of all winners.
Cannabis products have a long history of use in religion. The high times cannabis cup festival does not have an overtly religious theme, but the spiritual component s obviously there. Rastafarianism, related to the Zion Coptic Church, is certainly present, as well as influences from India, Nepal, and Tibet. Many sources indicate that cannabis products played an important role in early and biblical Judaism. Indeed some sources assert that the term "a land flowing with milk and honey" is a reference to the abundance of marijuana in early Palestine.
The 2013 Cannabis Cup festival was certainly a joyous event and it can be assumed that many people present were in some form of spiritual contemplation enhanced by the use of cannabis products. How many were dressed in saffron as sadhus was not reported, but it can be assumed that at least some were. As would be expected at a marijuana festival, no violence was reported. Either any incidents that occurred were too minor to report, or everyone just plain forgot to mention it.
Over the next few years it is probable that this event will continue to be held n America and probably get larger and be better reported. Perhaps the government will actually pay attention to all the scientific studies dating back to the panama canal studies which were conducted over a period of years by the U.S. Military and including modern medical studies, particularly in Israel.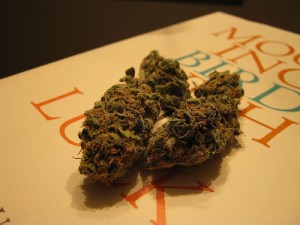 M.O.B. is a strain of marijuana that comes from Maine. The acronym stands for "Mother of Berries," due to its genetic makeup, or "Money over Bitches," due to its flowering time. M.O.B. is an amazing strain of marijuana because it is not only fragrant, but also provides for a long and mellow high. M.O.B. is a great medical marijuana choice for both the seasoned medical marijuana user, and those who smoke only occasionally for medicinal purposes.
M.O.B. is from the Indica strain of medical marijuana and is classified as a Heavy Indica. Indica strains typically provide the user with a strong body high, one that is very physical and deeply relaxing. The strain is crossed with blueberry and is exclusively produced in the State of Maine. The color is an amazing frosted green with slight touches of purple pigment interspersed throughout the nuggets. The nuggets are sticky and fat. It is a beautiful strain of weed, in addition to providing a soothing and deep high. M.O.B. flowers within 42 days.
Due to its blueberry genetics, M.O.B. has a potently fragrant and fruity smell. It is a delicious strain of weed and tastes of blueberry entirely through each inhalation. Some people have described M.O.B. as almost tasting and smelling of blueberry cheesecake.
Due to its Indica genetics, M.O.B. provides for a deep and relaxing high. It has been known to be good for smoking in the daytime for those who have a high tolerance to medical marijuana. Those with a lower tolerance may find that the relaxation is so deep that they will be very sleepy. The high that M.O.B. provides generally lasts for at least one-and-a-half hours, even for those who have a high medical marijuana tolerance. Some have experienced a numb feeling that leads to a sleepy high after smoking M.O.B.
M.O.B. generally costs about $40 to $50 for one-eighth of an ounce at medical marijuana dispensaries. M.O.B. has been a favorite of medical marijuana enthusiasts and some have found it difficult to come by, due to its exclusive production in Maine. However, those who have smoked it enjoy the blueberry taste and pleasurable high and have noted that they would use it on a more regular basis.
Photo credit: mista stagga lee / Foter.com / CC BY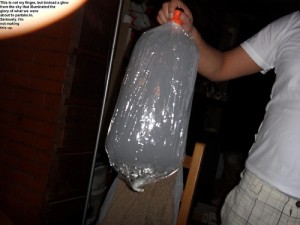 If you are interested in trying out a vaporizer for the first time, you might be wondering what you should look to find. There are actually quite a few different models that are available for purchase. Many customers will also be amazed by the incredible range of prices for the different vaporizers out on the market.
This kind of variability can be a little daunting if you don't know what you should get. But there are a few models that you should consider investing in if you want to get started. Read through to find some reviews of 3 really good vaporizers.
VaporGenie
This is one of the most cost effective models that you can get out there. It will only cost around $60, which will please many buyers out there. This may be your best choice if you aren't sure if using a vaporizer is really right for you. But there are some people who swear by the functionality that this model brings to the table. Despite its low cost, it will still prove to be one of the cleanest burning vaporizers that you could use. This will help make sure that you get the best experience possible. If you want a low risk option to try out, you should buy the VaporGenie.
Da Vinci Vaporizer
This is a mid-grade model that is becoming very popular in its own right. It typically retails for around $200, so you should expect to get a little more for your money. The major appeal of this model is that it is actually very portable. It has a compact size that will help you store it anywhere you need when you are on the go. You can get some accessories when you buy this model as well. Each Da Vinci Vaporizer will come with its own unique cleaning tool and oil can. This can help keep the model burning clean and smooth the entire time.
Digital Volcano
If you have money to spare, you might want to consider making an investment in the Digital Volcano. This model does cost quite a bit of money, sometimes up to $600 if you opt to buy it new. But many appreciate some of the finer qualities that it brings to the table. This version even comes with its own carrying case, so you can store it when it is not in use.