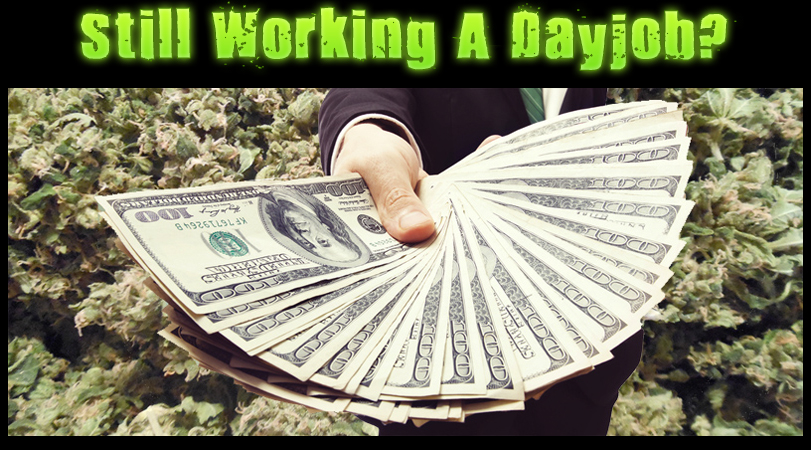 Every day more and more brick-and-mortar stores close down, the economy is getting worse, jobs are being lost, and more people are turning to the world wide web to make money.
Imagine waking up, plopping down at your computer to see that while you were snoozing last night, you just made 10 sales.
Not only is this scenario incredibly common, we would like to make it an everyday occurance for you so that you, too, can literally start making money tonight.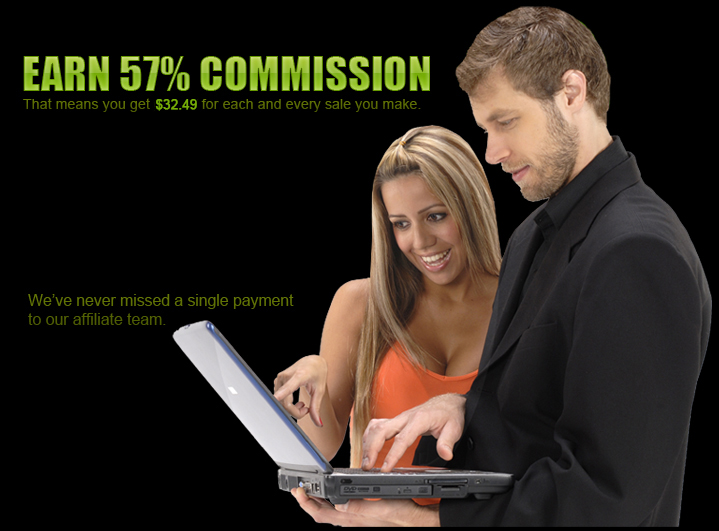 When you sign up for our affiliate program, you get a very generous commission rate of 57%.
In plain English, that means you will make $32.49 per sale.
Ryan Riley's long awaited Bud Beacon™ LED grow lights have just been released. We are totally including these in our affiliate program. NOTHING has to be done on your part, all existing cookies and traffic will work if anyone clicked your Hop Link and visited our page, even if it was set a year ago and then buys!
For the 400w Model (Our manufacturer gives us 30%, which then we calculate your 57% off of that.)
So you will recieve $71.52 per 400w Grow Light.
For the 600w Model (Our manufacturer gives us 30%, which then we calculate your 57% off of that.)
So you will recieve $84.80 per 600w Grow Light.

*Many growers like to buy multiple units for their grow rooms! Sending 1000's of customers or traffic our way, this can really start to add up.
This is totally freaking awesome, because even if traffic you send us has their heart set on The epic BUD BIBLE, and they click their way over to our LED page and then buy, (Or more common - if they go ahead and buy a copy of Growing Elite Marijuana at any point, Ryan Riley's Bud Beacon™ is displayed all throughout the guide; if any customer you sent decides to buy one, even if that's like MONTHS or even YEARS later,
you still get paid commission for it!!)
As you can see, you, too, can join the New Rich and really be racking up the bucks really soon here.
Making a "sale" online may sound tricky, but it's as simple as getting someone to click your link and press "order now" on any of our pages. We've done all the hard marketing work for you - all you need to do is point as many people as you can to our website using your provided link, and when they buy anything on our site, you get paid.
It really is that simple. But we'll show you how.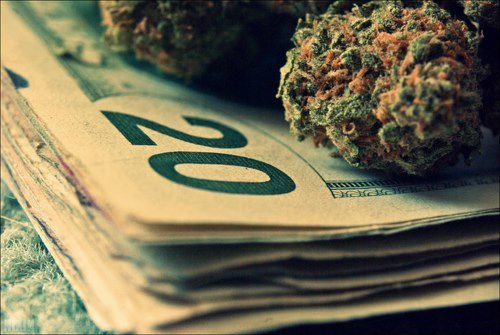 After you sign up you will be provided with your unique affiliate code.
This fancy internet jargon just means you get a special link. This tracking link allows us to make sure you are the one getting credited with the sales.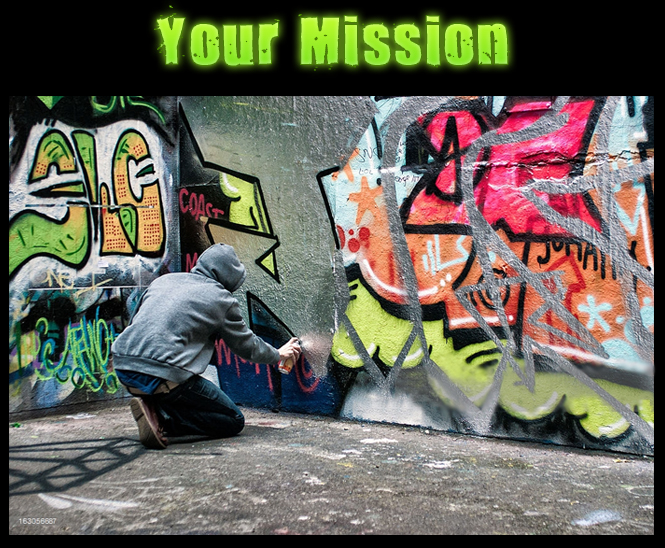 It's really easy, just get as many people to our page as you can.
Whether you're promoting online or offline - there are so many methods to make some serious 420 money.
We have a range of materials on this website, just check the buttons above.
Feel free to see below in the FAQ for examples of some of the best ways to make money promoting.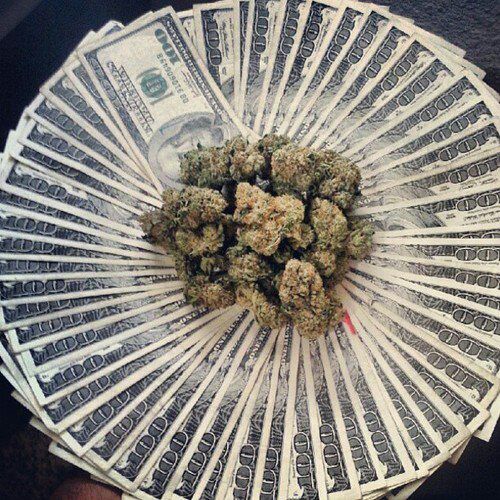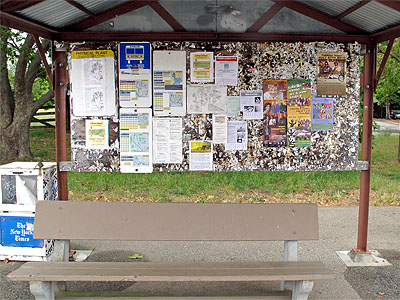 So how you get paid is through your unique tracking link.
So what is so special about this tracking link?
This link, also commonly known as a Hop Link, works like this:
When you click your Hop Link, you will not see your ID anywhere on the seller's page, nor is that necessary to credit you for the sale, and get this - the buyer doesn't even need to purchase anything immediately after clicking your link.
Clicking your Hop Link sets a cookie in the buyer's browser which expires in 1 year, then it redirects them to our main sales page. This means that within this 1 year life period of that cookie, at any time the buyer decides to buy you will earn a commission, even if they come back to our site later without clicking through your link again.
Our affiliate system is managed through iDevAffiliate Software, one of the most trusted online affiliate management service providers in existence today. iDevAffiliate offers you tracking that is secure, 100% accurate, and live; so you can see exactly where all your traffic (and sales) are coming from.
Affiliates are paid on a monthly lump sum basis via PayPal in the month following a completed sales month (e.g., commission for sales made in January will be paid out February 1st, sales in February will be paid out March 1st, etc.)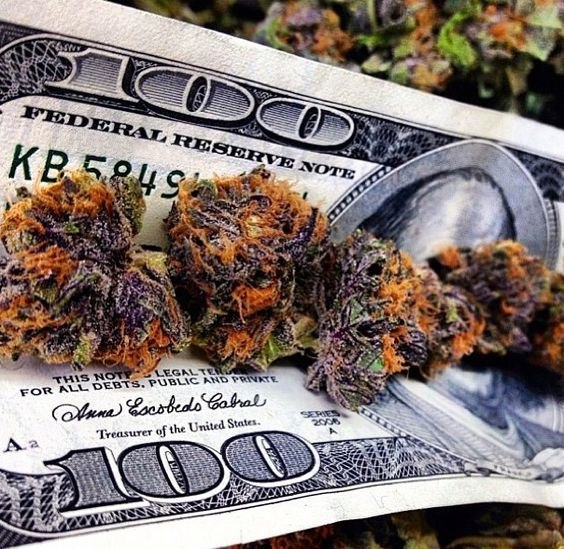 So say you hand out a couple business cards (we made those for you,) walking around at the music festival featuring Lil' Wayne this weekend...
You put a few flyers behind windshield wipers on cars in the parking lot during a concert.
You post to your Instagram or Facebook about how amazing our grow guide is...
You put a comment or two on Youtube or that grow forum...
In total, let's say doing these things you send around 500 people to our web page via your unique Hop Link.
Right now (and this is improving all the time), depending upon the event, holiday, grow season, or promotion used, our conversion rate ranges from about 1% - 2.65%
That simply means that out of every 100 people you send to our website, 1-3 will purchase a copy of THE BUD BIBLE - Growing Elite Marijuana.
500 x 2.35% = ~13 Sales.
Now if you remember from earlier, you get a 57% commission rate - this will NEVER lower - so that means at 57% you get ~$32.50 a sale. So, $32.50 x 13 = $422.50.
That's almost $500.00!!!
And that's barely doing anything.. there are SO MANY better ways to promote.
Get out there. GET PROMOTING, and go make some 420 money!
You can do the math and see that you can start making LOADS of some serious cash really soon.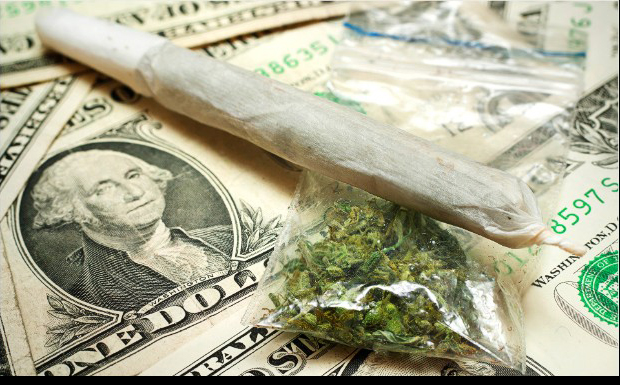 If this is your first time being an affiliate marketer, you will need to create a free account. You'll need an invitation to join our exclusive affiliate team, which we provide for you right here.
Simply click the button below to create your
free account and get your invitation to join.
Once you've successfully confirmed your account, it's time to get your Hop Link!
This is easy, log in and head to your Affiliate Home.
The following is a screenshot of what your affiliate admin panel looks like: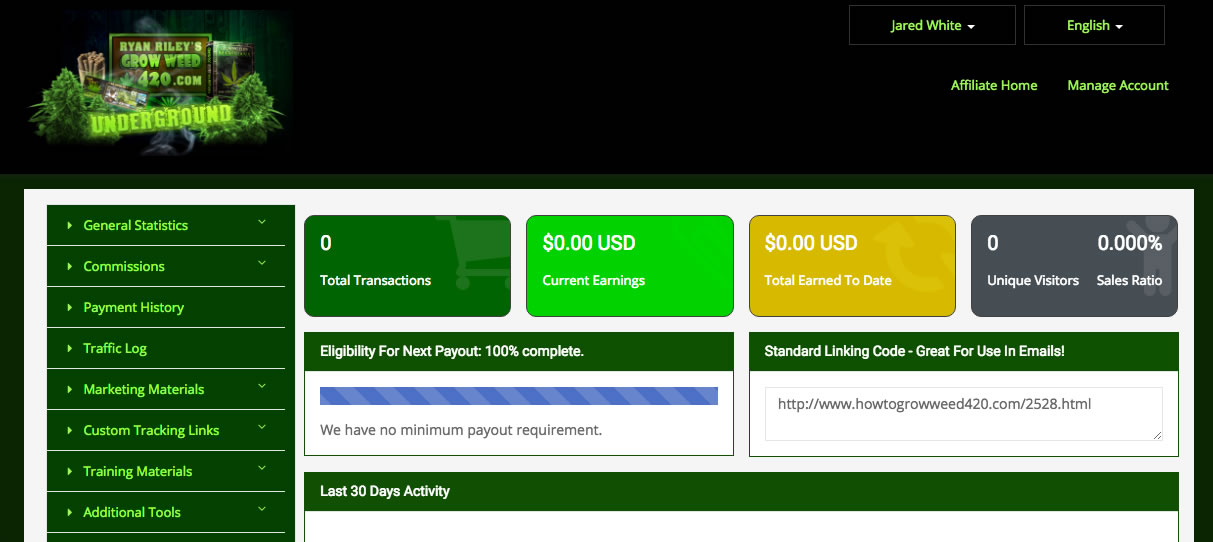 Now, see where it says "Standard Linking Code" ?

This "Standard Linking Code" (highlighted in green above) you are given is going to be your Hop Link.

Get as many people as possible to click through your unique tracking link,
and when they buy - you get paid a lot of cash!
(p.s. If you want to make your link more stealthy and cool for YouTube comments or forums,
we'll show you how - check the above buttons later at the top of this website to find out how.)
G.E.M. Underground is what we like to call our underground headquarters for all of our affiliates.
This is the website here and your page. After signing up you will recieve instant access to your affiliate control panel and we will keep you updated with the latest news.
The best part about becoming a Growing Elite Marijuana affiliate promoter is that we have already done all the hard work. You do not need to come up with unique ideas to promote the product. We have already tested the best way to spend your time to maximize your profits.
I suggest you review the variety of marketing methods located with the buttons above, and in your Affiliate Home panel and see which ones work best for you. You do not need to do all of them but perhaps experiment with a few and then stick to what works best. We have assembled an entire section of pure promotional material that you can start using today without asking our permission; on your website, blog, emails, newsletter, magazines, e-zine, reddit or Youtube comments, forum postings, handing out flyers or business cards you can print from the templates above at the local bar, 420 convention, concerts, every time you ride the bus or visit a gas station =), you get the idea... etc.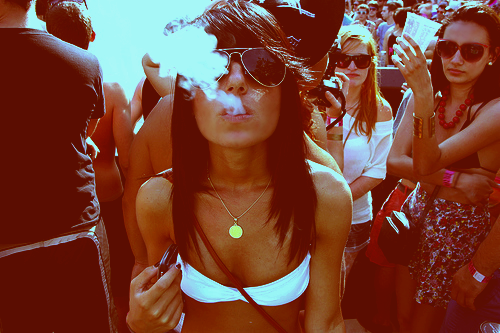 You're all done! Now that you've got your Hop Link, get it out ot your friends and as many people as you possibly can. There are so many eager customers out there just waiting to hear about our grow guide. The more faces you get in front of your promotional materials, the better. You can start seeing your first few sales as soon as tonight!
It's up to you. The promotion ways are endless. Just remember, the more faces you can get in front of the Growing Elite Marijuana main page via your Hop Link, the more sales you will get and the more $$$ you will make each month.
Welcome aboard.
Be sure to stay tuned-in at the G.E.M. Underground for more info.

No. We will be clear.
Sometimes you will recieve a commission for ~$4.55. (This is a tier commission. See Tutorial 2.)
Other times it will be ~$26.79. (This is calculated for our $10 off coupon sale codes. [Example: Click Here.])
Sometimes, very rarely you will recieve NO COMMISSION AT ALL!
Even if it says you generated one. (This is because we had to process a refund or chargeback dispute.)
Some people claim they sent us "lots of traffic" with no sales. This may sometimes happen because your traffic needs to be targeted.
Targeted traffic is just internet marketing jargon for specific customers.
There is a huge example between randomly passing out flyers at a random campus,
and a medical marijuana or legalization rally.
You need to promote in the right spots. Getting even more specific: online promoting on a general marijuana website will sell less than advertising to specific niche like grow forums or hydroponic shops. So, it really depends on the type of traffic you're sending us.
If you're not making a sale, neither are we.
Ryan stands behind his business with absolute integrity.

No! The great thing about us is we want to see you succeed here. There are many ways to promote online without needing your own website. We also have many ways to make cash physically.
Check the buttons at the top of this page for more.
An affiliate marketer is just a fancy way to say, "You recommend our e-book to whomever you like (friends, family, colleagues, customers, clients, website visitors, newsletter subscribers, bloggers, forum posters, etc.) and you get paid every time someone buys through you."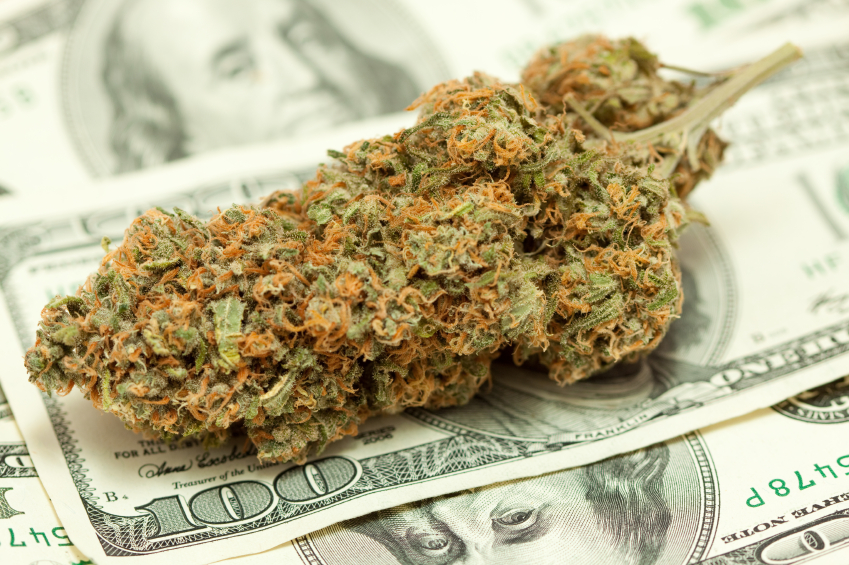 To be honest, you are in complete control of how much you make therefore you write your own pay check! There is really no limit to what you can earn. The more motivated and aggressive you are in promoting our product, the more money you pocket. It's a simple system.
The more tools you use and the more traffic you can send to our site, the larger your pay check! As you can see, these sales can really add up over the long haul.
1. You Earn Big Profits
Like we said, you get increased commission as you sell more copies of the hottest marijuana book on the market. When you're earning 57% commission that means you're making bank with $32.50 each and every easy sale. None of this weak 15-35% commission like most affiliate programs out there that leaves you a wimpy $5 for your hard work.
2. High Conversion, Low Refund Rate
The biggest commission in the world is worthless if the visitors you are sending to our site are not being converted! The good news is that we have already done all the hard work of working with some of the most expensive ad copywriters in the industry to edit, tweak, test, and perfect our sales copy to ensure that we have the highest conversion rate - and we will never stop working towards producing high conversion rates for you!
Refund rates are extremely low as well mainly because we do a excellent job following up with all our customers every few days, for the first few months, to ensure they are satisfied. We have one of the HIGHest quality cannabis products out there today.
3. Strife / Amazon Payment Gateways Handle All The Orders
Strife / Amazon help to sell our products - they are a trusted online retailer specializing in handling transactions for digitally delivered products. PayPal integration credit card transactions are handled. They accept every type of credit card as well as Paypal and E-Checks are an option (if the PayPal account doesn't get banned for "questionable material" - as ours continually has been.) in 100 different countries using the strongest security and best anti-theft fraud in the world. They are one of the most trusted online transaction systems on the Internet.
4. We Even Reward Commission For Procrastinators
As mentioned above, iDevAffiliate Software has a cookie system that tracks your visitors for 1 full year after they visit our site. If you send us a visitor who doesn't buy right away – but comes back any time within the 1 year period – you're still fully commissioned (they don't even have to go through your site the second time)!
5. We Profit ONLY When YOU Profit!
It is truly a win-win opportunity, and as an affiliate you are our most prized asset! If you are not successful and profitable then neither are we. Here is our vision for both of us: the more sales you generate, the more exposure and popularity we gain on the internet the greater the growth of our program. The greater the growth of our program, the bigger your pay check! It's a beautiful thing! The harder we both work, the faster we will both achieve our business and financial goals!
These are just a few reasons why you can count on us making you a high priority and making our affiliate program one of the most rewarding on the Internet. The G.E.M. Underground will grow regularly as we add more promotional material, tips and techniques for getting traffic to our sites to ensure can make your life as easy as possible!
Anyone can become an affiliate! Whether you have a website or not, anyone can sign up for a free account and start driving people to our website using your special link you will create. As soon as someone purchases our e-book or any other products we offer through your link, you will get paid and the funds will show realtime within your affiliate panel.
Mentioned in-depth above.
If someone requests a refund after their purchase then you will not get commission on that sale. Don't worry; we only put the highest quality products out there - the refund rate is extremely low so this rarely happens.
All this and so much more is located here in the G.E.M. Underground.
Please check the buttons at the top of this page for more tutorials.
Physical Promoting Ideas:
• Receipt Attachment: Own a hydro store, dispensary, or grow shop? Attatch a business card with your link on it (tutorial provided above) - on all your customers' receipts and watch the CASH roll in! (Same can be done for onlne sales.) We also supply standup plastic business card holder templates - just set one on your counter, and watch your money grow. Or, give them out to your friends & clients each time you make a transaction.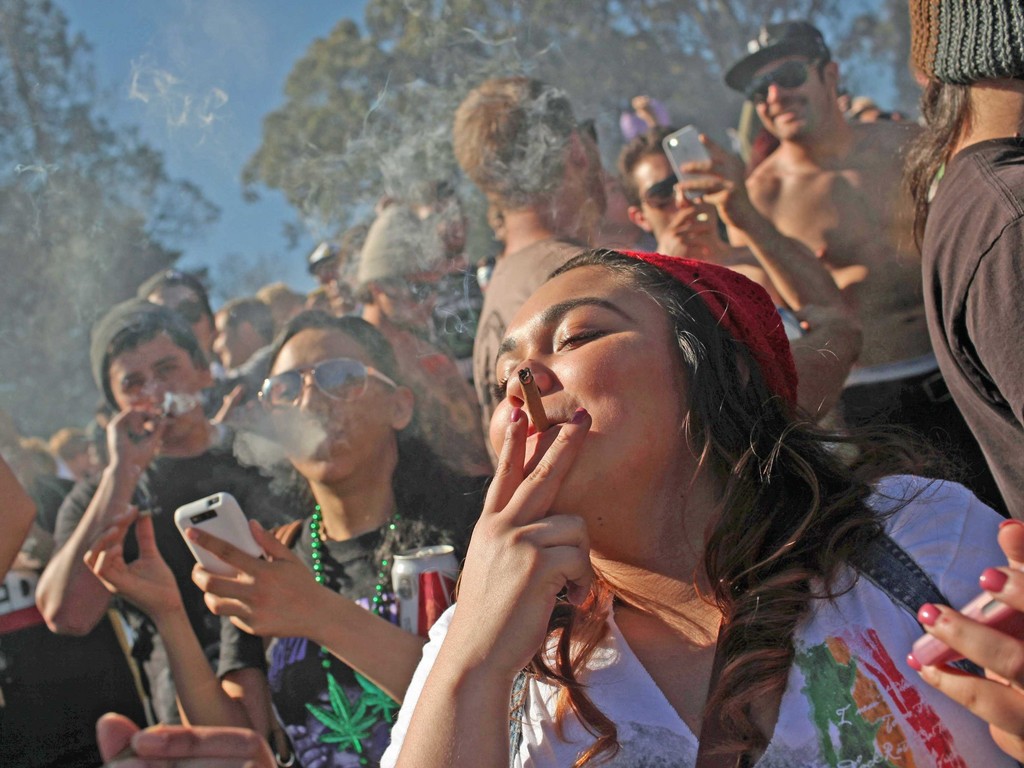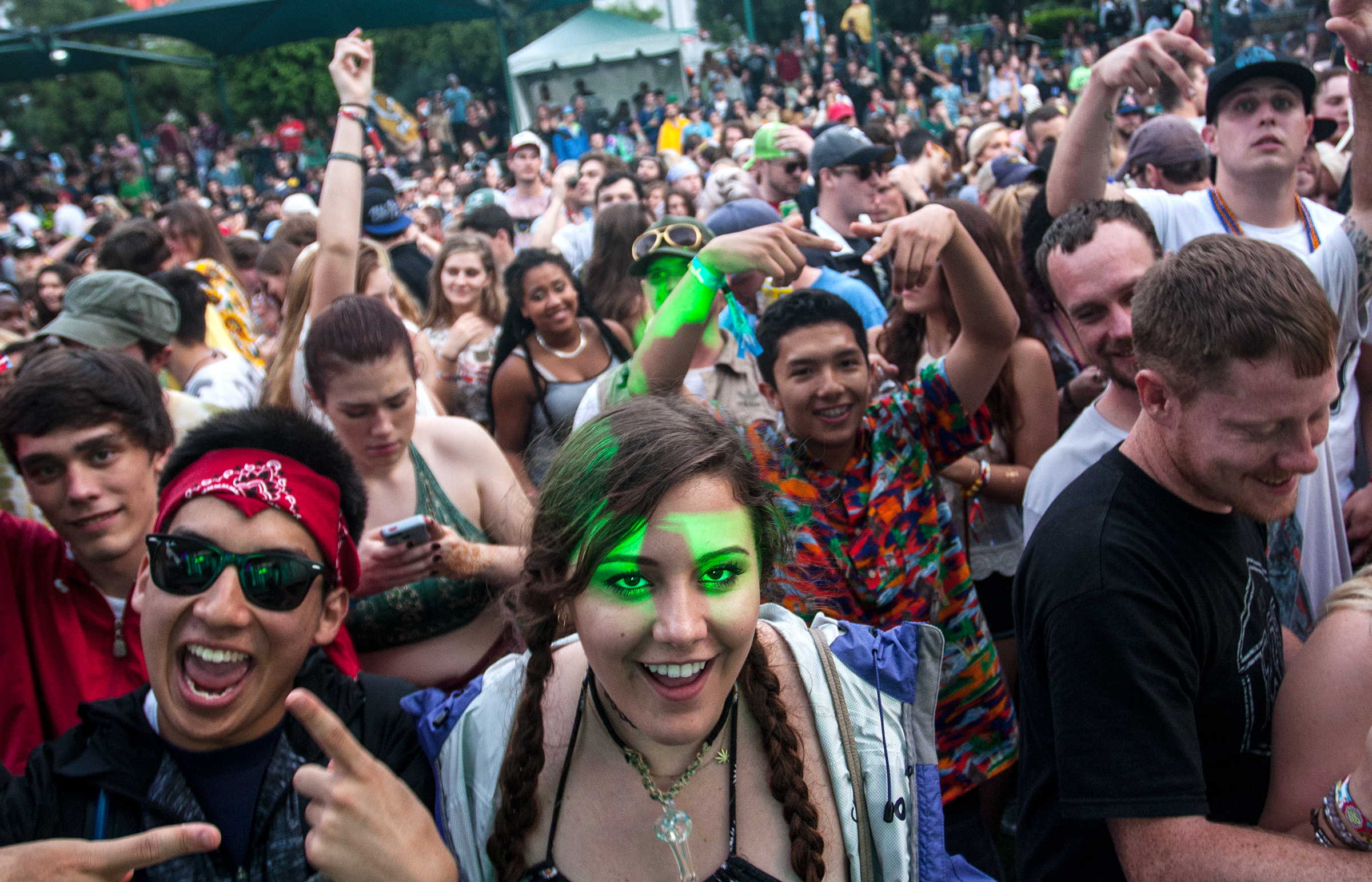 • Concerts, Conventions, Rallies & More!: Own a booth at the next cannabis convention? Just walking around? Want to make CASH handing out business cards at that next Wiz Khalifa concert? From posters, flyers, business cards - we have it all. Check the above tutorial buttons at the top of this page for more details.
You can make $800-$1000 at a single event, easily.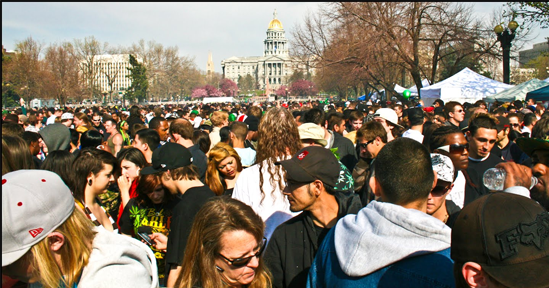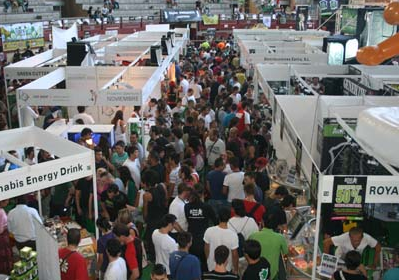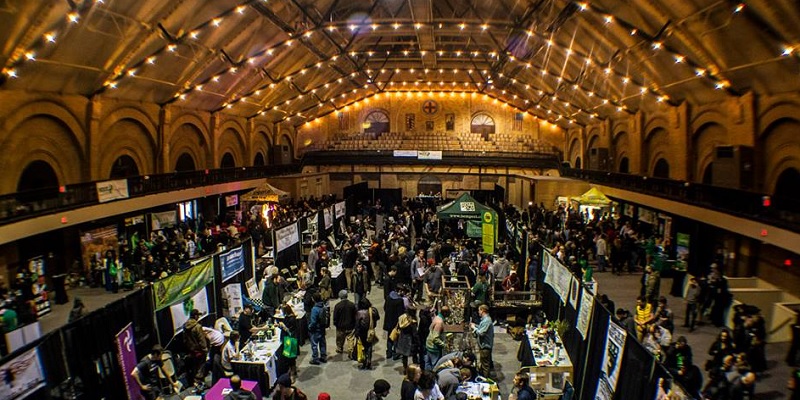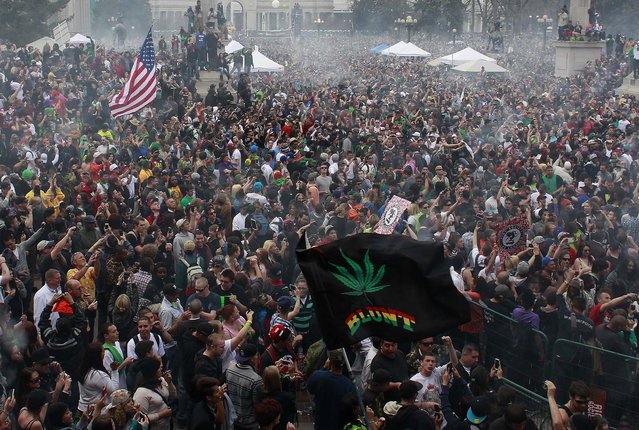 Flyers & Business Card Bombardment We show you how to make a custom tracking link business card or flyers provided above. Everytime you leave the gas station, leave a card in the slot or the bathroom. OR each time you ride the bus, leave a few cards on the empty seats. Don't forget the seasonal stuff - whether it's 4-20 or New Years - people love to be merry and smoke incredible pot with friends & family around these Holidaze.
What better way than to show them how to grow their own elite marijuana? Sales skyrocket around these times. If you happen to be hitting up that office party or doing some shopping at the local mini mall, be sure to place and hand out seasonal promotions all over.
Post a few flyers on your local bulliten boards, or all over your college campus. The possibilities are endless to promote physically.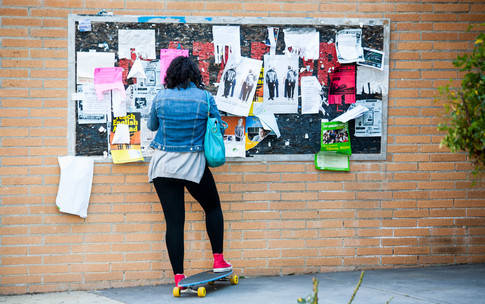 Online Promotion Ideas: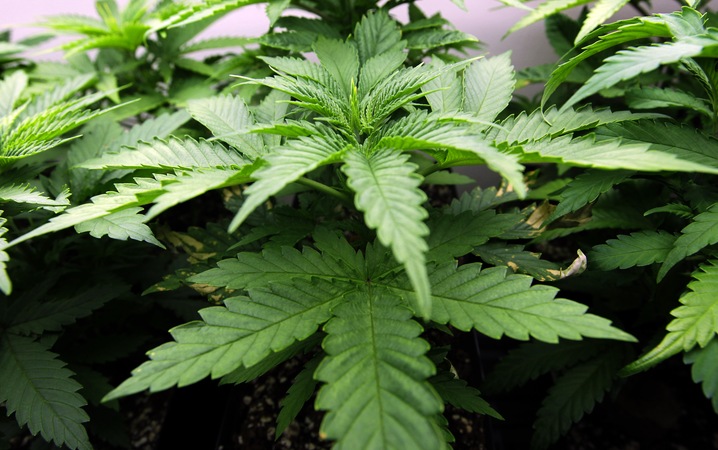 • The Main Method: Create a website that SELLS, and has a lot of qualified (specific, relevent) traffic. You can also do this by building a list to form a relationship with your visitors.
Unless you are an expert Facebook marketer or Google Adwords marketer or a publisher of your own high-traffic website with a large list then you need to build yourself a website that converts before anything else and focus on building a list. Don't worry about traffic until you do this. Here are some ideas to get you going: Create your own targeted marijuana site or blog. Be very specific to your audience. You might want to target new growers only, this will make your marketing efforts easier.
Make sure you have your own domain name redirected through your hop link. (Check the buttns above for a tutorial how to do this - you'll use that link for your physical promotions.)
Include a About Us and Contact Us link. Focus on creating your own original content. Include an opt in form to build a list of followers. Engage and entertain your visitors. Give them a reason to remember you when they land on your site. Use our professionally designed e-book covers, banners, graphics and images where appropriate. Post any success stories and expert reviews for social proof within your copy.
All of your content should be benefit oriented and geared towards your VISITOR. Delete anything that is not written or geared towards the visitor - specifically cannabis growers. Focus on BIG traffic using Google Adwords or other PPC (pay per click) marketing & advertising, article marketing, social media, etc!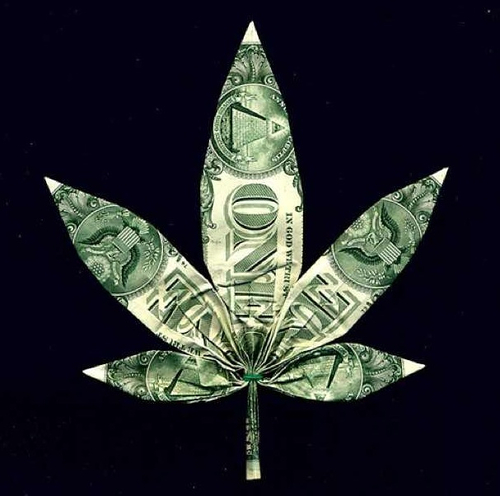 • Reviews, Forum & Blog Articles: Include an honest program review, or comment on your blog or website or forum and include some other products you compare ours to. This is one of the easiest ways to instantly start making sales. Make sure you link back to us using your unique Hop Link!
Have a link from your marijuana-related articles you can submit to high traffic websites such as Interesting Articles, Ezinearticles.com , goarticles.com, and Squidoo.com
• Social Media: Make or find cannabis-related Facebook, YouTube, Google+, Pinterest, or Instagram pages and post messages on their profiles. Some of these Facebook fan pages and profiles each have up to 8000 420-friendly eager potential customers. Using your social media accounts like Facebook or Instagram to tell your friends and other people about our killer grow products is one of the easiest ways.
If you already have a popular YouTube channel, we provide "click the link below" videos. Just upload them to your channel.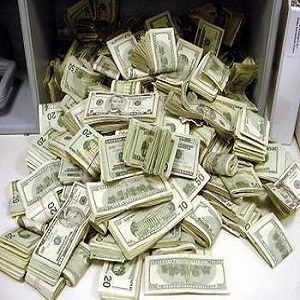 • Advertising: Whether it be throwing a banner ad on your website, or buying the ad space on another - these tried-and-true advertisement methods work. Some sites such as Cannabis Culture get 4 million page views each month. There are tons of them out there in the 420 community with lots and lots of very eager customers. You can see a list of advertisers here on our affiliate team website.
• "Stealth" Commenting: Post your Grow Journal in popular forums and talk about how you're using Ryan Riley's easy complete guide and it's really helping you out - and SHOW THEM the massive nugs you're now growing. Get people excited about the product! Comment with links on link-friendly video search websites (YouTube, etc.) Or comment on already popular high-traffic vids or forums posts and articles using your link.
Weaving through forums, posting YouTube comments on popular videos, or if you own a website - sending out one of our premade newsletter emails, videos, blog posts, or product reviews.
There are many many many many ways to begin making cash tonight!
• Video: Publish your own videos on major high-traffic websites such as Youtube and Vimeo and then place your hop link in the video comment section. (Or link back to your marijuana website or blog where the hop link originally resides).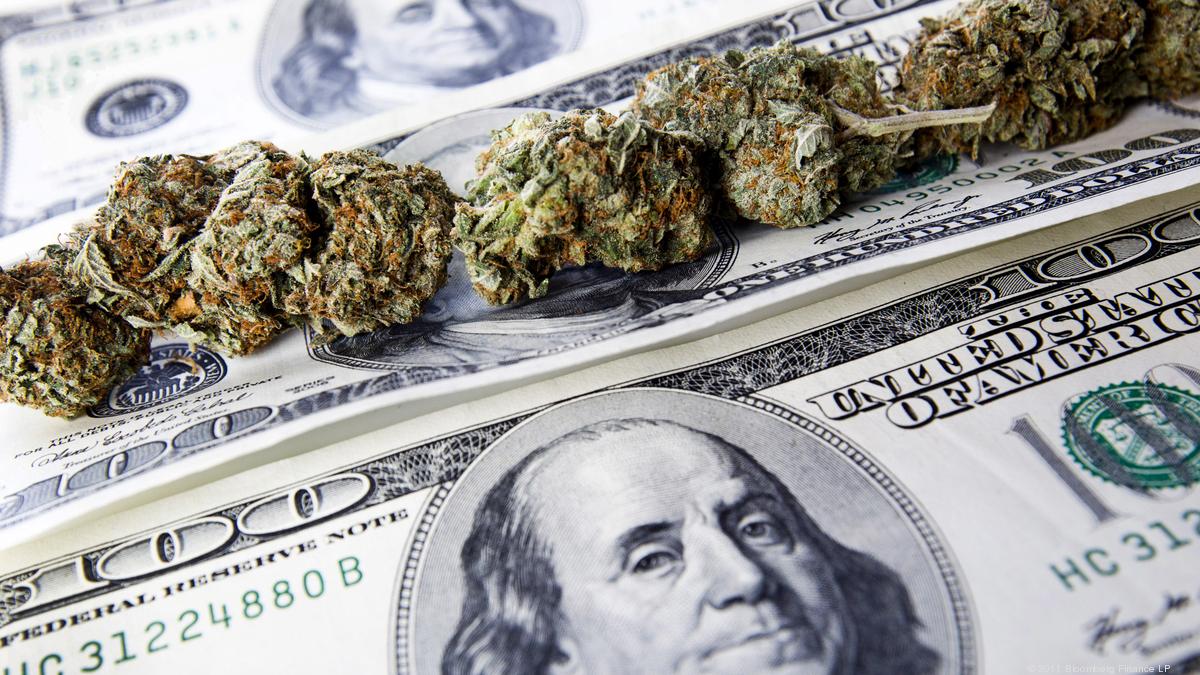 ABSOLUTELY NOT. You may use any of the images you want as long as they have our watermarked however you cannot copy or use any portion of the text found on our main page because that causes negative effects SEO wise for us as well as our affiliates as a whole.

Please write unique content when writing your articles and comments about the guide because that is what will allow you the ability to make more money versus copying and pasting content found elsewhere. Here's another reason why we don't recommend it.  How would you like going into a car dealership to buy a car and after the sales man gives you a great pitch you were fully convinced you wanted to buy the car. You were completely sold and ready to take out your credit card…

…but wait. Right before you were about to hand over your credit card the sales man starts rambling again about how great the car is, how the engine runs, the beautiful rims, brand new stereo system blah blah blah!  Chances are you would be so annoyed with the car sales man re-selling you AFTER you are already sold!  I wouldn't be surprised if you changed your mind on the spot and walked out.  You were going to give the salesman your business but he pissed you off at the last second and lost your business.  

I see this happen all the time with affiliate marketers. They create landing pages that try to sell our product and that is NOT your job. That's our website's job. It's already a highly converting, professionally direct-response marketing letter.

By using our sales copy on your landing page you are DOUBLE SELLING and probably hurting your conversions. Your landing page should be like a greased slide that includes a compelling headline, high quality article or video content and call to action. Here are the key elements within the landing page:

1. Provides tips and tricks but not the complete solution.
2. Peaks more curiosity.
3. Builds trust and rapport
4. Establishes credibility. 
5. Provides a call to action for more information i.e our website via your affiliate link
Yeah, that's completely cool and we totally recommend bringing your landing pages to life with powerful images that represent the topic you're speaking on. Also including our professionally-designed product images will further peak interest and get even more people to click your Hop Link.
Pictures of dank frosty buds, cool grow setups, mouth-watering marijuana plants and other related emotionally-stimulating awesome images will be very powerful and are a great idea.
If it's an image we personally took in our guide or on our blog, you MUST use our watermark.
Browse the Growing Elite Marijuana Underground and read trhough the ENTIRE website before emailing any questions. Remember, once you're on board you're family. We are here to help you. We will try to respond to any questions as soon as possible and try to assist you with your unique marketing campaigns as much as we can.
Seeya inside!
Sincerely,
The Growing Elite Marijuana Underground Promotions Team.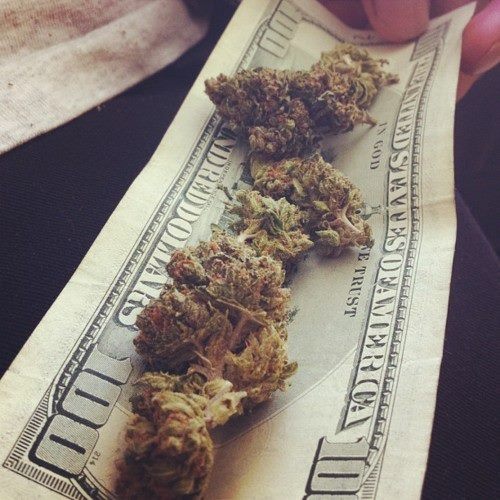 © Copyright 2017 www.howtogrowweed420.com All Rights Reserved.