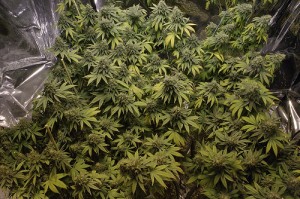 Deathstar OG is a powerful blend of old standbys Sour Diesel and Sensi Star. It's an amazing hybrid offering great indica and sativa. Dank and sweet smelling, the mixture of flavor includes classic skunk and aromas that can't be denied. It's got an earthy taste and seems pretty pungent. While Deathstar might not be able to vaporize planets, vaporizing deathstar sends you into outer space.
With a distinctive buzz, Deathstar comes on slowly but surely. Effects are sleepier in nature, potent by design. Relaxed euphoria is one way to describe the buzz. It makes you forget all your troubles, kick back, and relax. That's the indica influence. The sativa influence results in good mental focus even while under the influence.
Top positive effects of Deathstar include:
▪ Euphoria – Uplifting emotional high
▪ Happiness – Brings positive thoughts
▪ Relaxation – Kick back and chill
▪ Creativity – Think out of the box
▪ Comfort – Feels good, nice CBDs
Engineered by Ohio cannabis growers, Deathstar works great day or night. It keeps you up and moving while also calming nerves. Many users rate this at around 4.5 on a scale of 1-to-5, five being the best score.
Top medical properties of Deathstar include:
▪ Treating Insomnia
▪ Mitigating Muscle Spasms
▪ Eliminating Stress
▪ Treating Pain with Top CBD Value
▪ Relieving Nausea
Other medial uses for Deathstar include relieving symptoms of arthritis, ADD/ADHD, and fibromyalgia. Patients using this strain reported help with alleviating migraines and anxiety.
Users reporting slight negative aspects to their medicinal marijuana experience reported the strain could cause dry mouth and dry eyes to a degree. Users said they might get a little paranoid and in very rare cases become a little dizzy.
With its distinctive flavor and good working high, Deathstar combines the best of both sativa and indica worlds. It works especially well in vaporizers, which, not incidentally, are better for health than straight-up smoking. With such growing popularity, it can be a little tough to locate, but when you do, look out below. It will decimate your pain while keeping you focused and happy.
Bottom line, this hybrid provides a slow burning pathway to feeling good while feeling no pain. Be sure not to overdo it, however, or face the danger of couch lock. It's chill and better than taking a pain pill. Tastes great, less filling, as they say. Pick up some Deathstar if you can and enjoy the buzz.