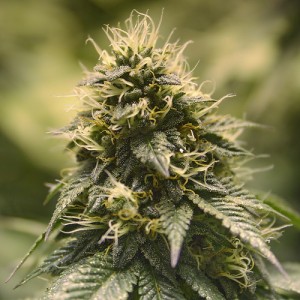 The Green Ribbon Strain is a strain of medical marijuana used to treat a variety of conditions from anxiety to insomnia, as well as pain relief. The Green Ribbon Strain is a sativa dominant hybrid; it is comprised of Green Crack and another strain, or possible more. The lineage is a little fuzzy as to what the other strain (or strains) is that makes up this hybrid, but the probable parents are: Trainwreck, White Rhino, Afgoo, or Afghanica. Generally, this strain of cannabis contains a THC content of 12-20%, and can have a very potent effect on the patient.
Attributes
Green Ribbon has a light green bud with distinct orange hairs. The buds are fluffy, but they are also extremely sticky. The smell is described as being a pleasant mix of light floral and fruity notes, but also very pungent and strong with citrus-like undertones. Green Ribbon has a sweet, earthy taste, but it also leaves a slight citrus aftertaste.
The effects from Green Ribbon vary, however, many people report feeling the sativa-like effects, providing them with uplifting energy and motivation. It is also widely reported that Green Ribbon produces a very strong, full body effect, but it helps the mind to relax, allowing the patient to experience a stress-free mindset.
Effects
Most patients that have used this strain report a heady, energetic effect that made them feel happy and uplifted. Other patients reported feeling euphoric and focused after using Green Ribbon. Of course, as with everything there are negative side effects, also. Half of patients report dry mouth as the most common negative side effect of Green Ribbon. Other negative effects mentioned are: dizziness, dry eyes, and paranoia. A minimal amount of people also report a headache after medicating with Green Ribbon.
Good For….
Many medical issues can be treated by this particular strain of cannabis. Green Ribbon is known to help regulate sleep, helping to treat those with insomnia. It is also helpful for treating such conditions as anxiety, depression and ADD/ADHD, due to its ability to relax the mind and relieve stress. It has also been reported that Green Ribbon can be used for pain relief, and is helpful to patients suffering from migraines, nausea, and even Multiple Sclerosis.
This hybrid, with the body effects of a sativa and the mind effects of an indica strain, is a well rounded solution for a number of medical issues, and can be used to bring relief to many people.