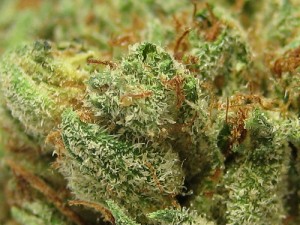 If you are a person who regularly uses or is highly familiar with medical cannabis sativa, then it is most likely that you have tried all the various strains available out there. Some of the most known and most highly used strains of cannabis sativa are those developed and bred by TGA Subcool Seeds. They have a well-known reputation for having created some of the best and tastiest combination strains of medical cannabis sativa. TGA Subcool Seeds are responsible for developing a wide range of strains, which include Agent Orange, Ace of Spades, Jack The Ripper, Chernobyl, Qleaner, Pandora's Box, Vortex, Querkle and many more others.
The Jilly Bean is a hard-hitting hybrid strain that stems from the tasty strain combination of Space Queen and Orange Velvet. There are several genetic reasons as to why the Jilly Bean strain is so tasty, looks so good and hits the way it does. The first thing to look at is its composition.
Physical attributes
Orange Velvet
The Orange Velvet strain is popular more so because of its wonderful and delicious, creamy orange flavor. Most users of the strain claim that it has a taste similar to that of orange creamiscles. The Orange Velvet strain has the reputation of not being potent or having strong effects. It is more so used in making various strain combinations. It gives most strain combinations a delicious taste, better flavor and aroma. In addition, it helps to deal with annoying body ailments.
Space Queen
The Space Queen is a combination of Romulan, which is mostly Indica and C-99, which is mostly sativa. C-99 stands for Cinderella 99. Space Queen itself is in large part a 50/50 combination of strains.
Effects of the Jilly Bean strain on patients
The Jilly Bean strain is roughly 70% lndica and 30% sativa. It tends to affect patients accordingly. It produces smoke that is smooth and tasty. It is expansive on one's chest and still goes down easy on the throat. Jilly Bean provides a good, mellow, body melt because of the Orange Velvet strain it contains. Its high is more of the clear-head type because of the Space Queen strain it contains. Mostly, patients use the Jilly Bean strain to uplift their moods and provide them with a natural means of combating their stresses and anxieties.
The Jilly Bean strain does not put one to sleep, so recommendations are that one medicates during the day to get that full body buzz that usually comes with the heavier strains.
Photo credit: Nickel Bag of Funk / Foter / CC BY