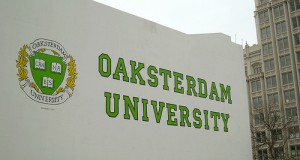 Decades after William Randolph Hearst stared his unfounded smear campaign against the hemp bearing plant cannabis, the United States government is finally starting to recognize that not only is marijuana completely harmless, but it has an abundance of helpful medicinal properties not found anywhere else in nature or in science. California is one of the most liberal states with regards to marijuana use.
They were also the first state to recognize the medical benefits of the plant by making it legal for medicinal purposes. In 2007, a group of cannabis advocates, spearheaded by a man named Richard Lee, saw this as an opportunity to educate those willing to learn about the benefits of cannabis, so they founded Oaksterdam University Oakland, the first school in the United States specifically created to openly advocate for marijuana, educate students about its benefits and teach students how to participate in drug policy reform.
The week that the original Oaksterdam staff announced the direction of this revolutionary new school, they received hundreds of phone calls. The concept of the school sent shockwaves through the community and rallied marijuana advocates across the nation. After careful consideration, Lee and his compatriots whittled hundreds of applicants down to twenty first year students. Because applications continued to flood their doors, they were forced to put new applicants on a three month waiting list on a first come, first serve basis.
The school's inception sparked national attention. They have been interviewed by Fox News, CNBC, G4, Current TV and a host of other national news and entertainment stations. They were also the subject of an hour long special on National Geographic.
As the school grew, they expanded. In 2008, they opened a satellite school in Los Angeles. They didn't stop there, though. A year after opening their Los Angeles campus, they opened two satellite schools in Sebastopol, California and Ann Arbor Michigan, which had recently legalized marijuana. That very same year, they were once again overwhelmed with applicantions to their main school in Oakland. To accommodate as many students as possible, they expanded their main school to a 30,000 square foot campus. The new campus features a state of the art cannabis grow lab, numerous classrooms, two auditoriums and a full sized theater.
With Richard Lee and the Oaksterdam University team always looking for innovative ways to educate those willing to learn about marijuana, one can only wonder what else they have in store.