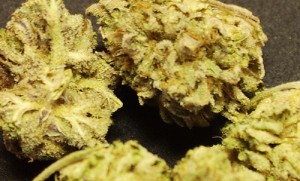 Named after an alien race from the sci-fi television show Star Trek, it isn't surprising that fans of the strains Yoda OG and Darth Vader OG are picking this up from their dispensaries. Just as you shouldn't choose a book by its cover, you shouldn't select a strain by its name, so here's the basic information on Romulan.
Ideal Medical Uses
This strain makes most people feel very relaxed and drowsy, so it is an excellent choice for treating insomnia or pain almost anywhere in the body. In particular, its sedative, relaxing effect well suits those suffering from muscle spasms. Some patients also recommend it for menstrual cramps. While most don't consider it a true "knock out" strain, it isn't popular for daytime use–in fact, it's best to use Romulan once you've settled in for the night. This is doubly so if you are among the majority of patients who experience a "mind-warping" high from this strain.
Flavor And Appearance
You will know you have true Romulan by its piney smell. It can also be earthy and slightly skunky, but if you don't smell pine, you have a different strain. It should have frosty-looking buds and show a variety of colors, including different greens, purple, and possibly orange.
History
Although there is much speculation about Romulan's genetics and origins, it isn't true that Romulan is a pure Indica (Afghani/Kush)strain. Most of the Romulan you will encounter at dispensaries will have mostly Indica genetics, but this strain definitely has Sativa as well. The original growers allegedly mixed Korean, Columbian, and Mexican seeds, creating different hybrids until they achieved something very similar to the Romulan we know today.
Variations
If you like regular Romulan but find it too difficult to concentrate while using it, you might consider one of its hybrid forms. Romulan Cotton Candy, as its name suggests, is Romulan crossed with Cotton Candy. The buds are usually shaped like a fox's tail, and many patients find that after the first half hour, they're able to go about their business while enjoying almost as much pain relief as with a pure Romulan. Another you might consider is Space Queen, a cross between Romulan and Cinderella 99. This pineapple-scented variety actually boosts concentration for many patients while still providing pain relief, but many also find it may promote anxiety and paranoia unless taken in very small doses.