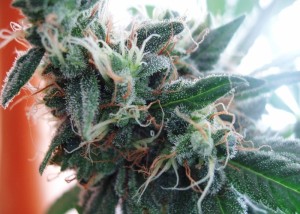 If you're in need of a strain that helps you function, and like the smell of skunks (more on that later) you may find Shipwreck Strain useful for your medical needs.
Shipwreck is a sativa hybrid of 
Trainwreck
 and 
Mothership
. Mothership is a hard to find strain, and Shipwreck itself is difficult to locate in dispensaries. It is very hard to find in the Northeast, Southern, and Mid-Atlantic states. It is more commonly found in parts of Michigan, Nevada, and Oregon (Shipwreck is in fact a native of Oregon). This is a low yield strain, doing poorly when grown out of doors.
This strain has a peppery sweet taste, and a strong, "skunky" odor. Users report consuming Shipwreck produces feelings of happiness and even euphoria. Some users even report sexual arousal after consuming it. It produces an energized, creative effect. Using it generally results in a strong "body buzz". However, a minor side effect of using this product is tiredness when the buzz wears off, to the point where the user can fall asleep. This may not be the product for users who have to stay focused and alert for extended periods of time. It seems to work best as a daytime medication. Other effects include dizziness, dry eyes, and dry mouths. In rare cases, users reported headaches and paranoia.
Despite these last mentioned negative effects, users have found Shipwreck to be useful in the treatment of migraines, anxiety, PTSD, hypertension, and bipolar disorder. It has been useful in enhancing appetite and suppressing nausea.
Shipwreck has a low THC content, meaning it won't provide effective relief for severe pain. While this strain is not commonly used in treating arthritis, some patients have found relief with it in relieving inflammation and joint pain.
For users suffering from moderate pain, nausea, and anxiety issues, Shipwreck may be helpful, especially if it's necessary to remain functional while using it. But because the tolerance threshold is so high, this is a strain that should be consumed cautiously at first, until effects are known.