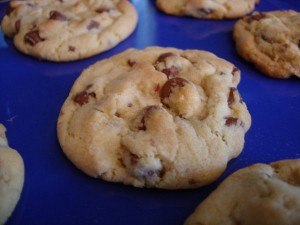 With the spread of legalized medical marijuana use, there is a growing need for new ways to administer the drug to alleviate pain. Using cannabis as a cooking ingredient is a safe and natural way to receive the drug's beneficial properties, and is easy to prepare yourself at home. Use this recipe for delicious cookies as an easy starter guide on how to best use this method.
Start by melting two sticks of butter is a sauce pan. Sprinkle the cannabis into the melted butter, mixing until it is well incorporated. Let this simmer for fifteen minutes on very low heat, taking care that the butter does not scorch. Remove the butter from the heat and let it cool, then strain the butter through a cheese cloth, retaining the butter in a small bowl and discarding the cannabis bits.
In a mixing bowl, combine one cup of white sugar, one cup of flour, one cup of steel cut oats and one cup of brown sugar. Stir these together until all sifted, then add one teaspoon of baking powder and one teaspoon of salt. Next add your wet ingredients, mixing in two eggs, one teaspoon of vanilla extract, and the melted butter. Stir until everything is well combined.
Then add in one cup of chocolate chips and one cup of chopped nuts like walnuts, and give everything one final mix making sure you have a proper cookie dough consistency.
Roll the dough into a log inside some Saran Wrap and place in the fridge to chill. You can freeze the dough for up to six months until you are ready to use. Once it is time to start baking, pre heat the oven to 350 degrees Fahrenheit and grease a baking sheet with cooking spray or butter. Spoon small circles of the dough onto the baking sheet, making them about one and a half inches in diameter and placing them about one inch apart on the sheet so they do not melt together and form one giant blob.
Place the baking sheet in the oven and allow the cookies to bake for about nine to twelve minutes. Don't let them get too brown on the top, so keep checking them. Pull the cookies out of the oven and let them cool for about five minutes before sliding them off the baking sheet and placing them on a plate to serve. Enjoy!
Photo credit: scubadive67 / Foter / CC BY